Roxette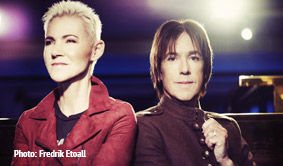 The latest news from the Swedish duo
Marie Fredriksson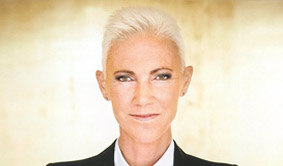 Learn more about Marie and her solo projects
Per Gessle
The mastermind and his side projects
Gyllene Tider
All about the 5 boys from the Swedish West coast
Roxette
Roxette finished their world tour, called Roxette Live – The 30th Anniversay tour. Another tour seems unlikely as Marie just declared that touring takes too much energy.
A new album is coming June 3: "Good Karma". The first single has been released already: "It Just Happens".
Per Gessle & Marie Fredriksson are Roxette. Roxette formed in Sweden in 1986 and broke thru world wide in March 1989 when the single "The Look" went to #1 in the US. Roxette had 4 US #1s and 2 #2s between 1989 and 1991; "The Look," "Dangerous," "Listen to Your Heart," "It Must Have Been Love,"  "Joyride" and "Fading Like a Flower." In 1994 things got bad between Roxette and their record company in the US, therefore there has been little to no Roxette in that part of the world since. The rest of the world has had the pleasure of more hits since though. In 2001 Marie was diagnosed with a brain tumor, which she fought and survived. Roxette was on a hiatus until 2009 when Marie came on stage with Per on his solo tour performance in Amsterdam, Holland. Since then they have been on a major world tour and released two albums; Charm School and Travelling.
Roxette released a special edition 7″ of The Look  in April 2014 to commemorate the 25th anniversary of the hit. There was also a Blu-Ray/CD released named Roxette Live – Travelling the World  in December 2013. The latest studio album release was Travelling in 2012. On April 8, "It Just Happens", the first single of their forthcoming album "Good Karma" was released.
Roxette finished their extended 30th Anniversay Tour which in 2016. Find our more on our tour page. Another tour is unlikely at the moment.