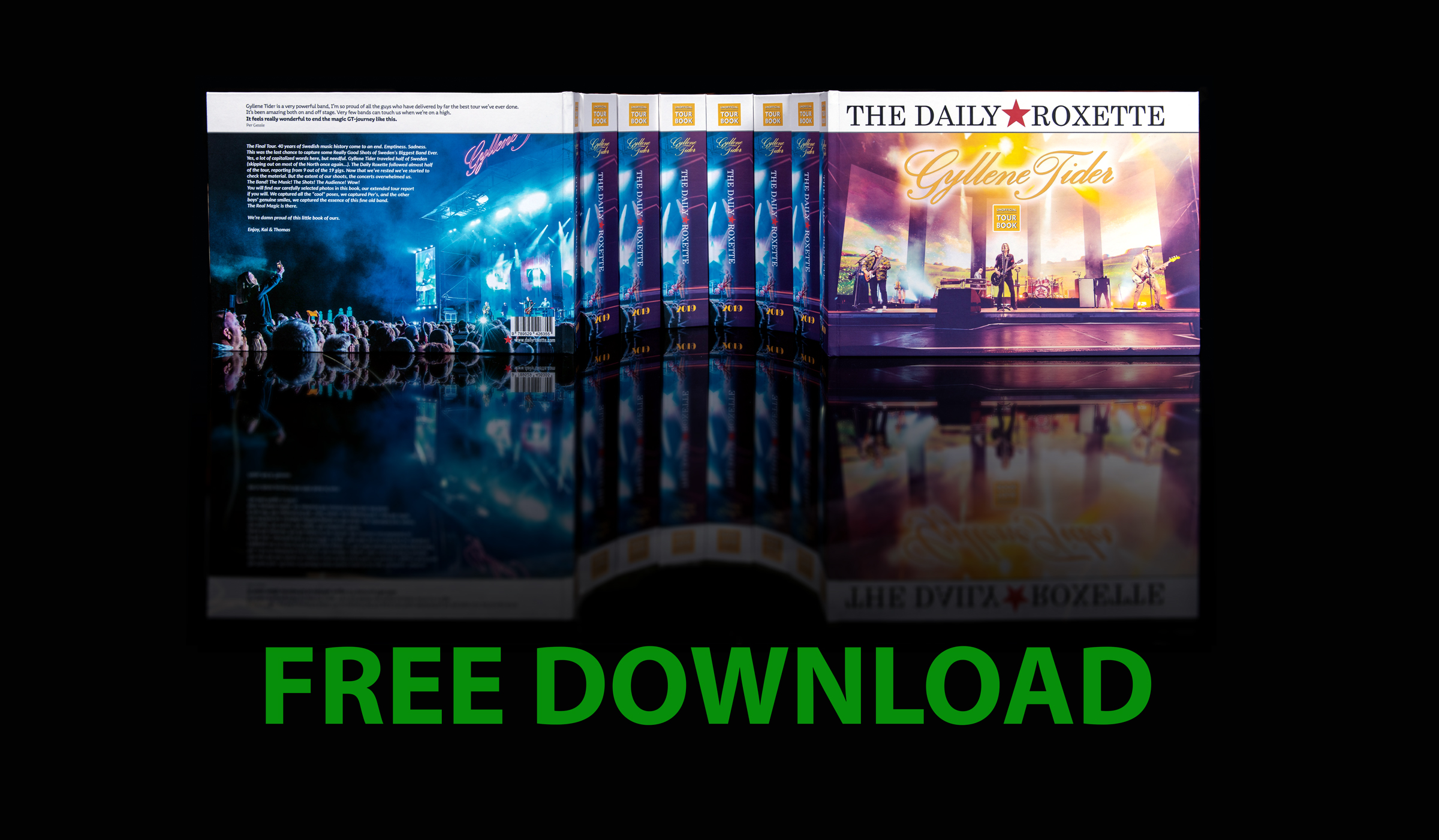 TDR presents: Gyllene Tider GT40: The Unofficial Tour Book 2019
Last year's book was a success, so we thought: Let's make this a habit!
We'll make this short and sweet: Our new book is out. More than 480 pages thick, high quality photo paper, hardcover, A4 size and really really heavy. We collected all our photos from this summer, selected the best of the best – and believe us there were quite a few bests, added our tour reports, an interview with Per and a lot of love and here we are: Gyllene Tider's probably only unofficial tour book ever is not only good looking but can be on your living room table before Xmas this year (hint, hint!) if you hurry. So if you place your order before Nov 24, 2019, the store guarantees you to have your book(s) delivered on time. Since all the books are hand-made, just like last year, and we don't produce as many books as let's say some famous Swedish musicians, the price tag is a bit higher but be assured you'll get a high quality product and neither we (TDR) nor the printing company in Germany (run by a very dedicated fan) are making any profit here. Remember, our book is almost twice the size of the official GT book and much thicker as well, even almost 20 % thicker than our last book. While we're at it: Get the official Gyllene Tider book, too! Ours and their book are made with different concepts in mind, so they will complete each other. We'll also send copies of our book to the band, at our own expense.
Same as last year, we will put a huge PDF file with the entire book on this page here for free(!) again, although this time a little after Xmas to give the buyers of the hardcover book an advance. We know you'll understand. Thank you!
If you head over to the shop at www.roxbooks.de, you can also find an interesting bundle offer containing both the last copies of our book from 2018 (Per Gessle's Roxette: Unofficial Tour Book 2018) and the current one (Gyllene Tider: Unofficial Tour Book 2019). It might be we're on a roll here now and you'll want to become our collector.
Ännu kortare på svenska: vår nya bok kommer snart! Gillade du den förra gillar du den här ännu mer. Vi har lagt all vår kärlek på den och våra bilder. Vi har fotat det bästa och det mesta. Över 480 sidor tung kärlek till Gyllene Tider. Den kostar €69,99 och är väl värd sin investering. Efter jul kommer det en PDF med boken och den är som vanligt gratis. Bandet får varsin bok av oss i julklapp, det är de värda.
Beställ här nedan.
I want a hardcover book
€ 69.99 on https://www.roxbooks.de/
Download the e-book
Reduced file size and image quality (PDF, 168 MB)