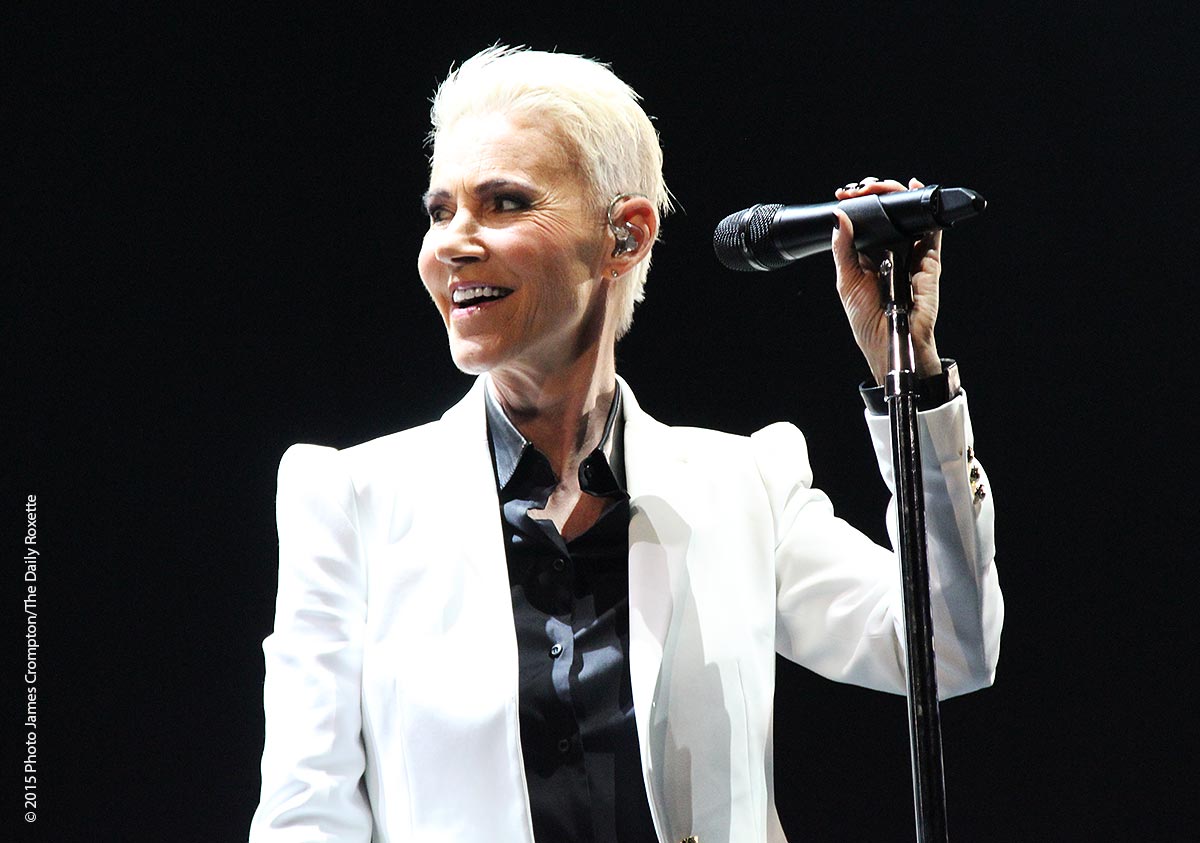 Roxette – a kiwi perspective
AUCKLAND – I was 12 years old when "The Look" became a hit in New Zealand. It was quite risqué back then and my rather conservative parents would not let me listen to what Dad called 'jingle jangle' music, which was basically any form of music that wasn't classical.
This article is one of many created by "Good Reporters", guest authors writing for The Daily Roxette. You can become a good reporter as well. Please check
www.dailyroxette.com/reporter
for details.
My best friend Matt Ottignon who is now a fully fledged musician in his own right introduced me to the song and initially it stirred something in my loins that was slightly uncomfortable, even unfamiliar within my rather limited spheres of musical experience. After a few listens the track made such an impact on me, along with "Dangerous", "Dressed for Success" and "Listen to Your Heart", that I had to go and spend all my hard earned pocket money buying the Look Sharp! album. I would dance by myself in my room to "Dance Away," I would air sax to "Sleeping Single." And of course air guitar to "The Look," among many others. I loved all the songs on it. They took to some far off place and gave me a sense of wildness and freedom.
Back in 1989 I think it was they had come here on a promotional tour. My sister's friend had told me how they arrived in a helicopter at their school Westlake Girls High School. She was absolutely buzzing.
In 2012 New Zealand was finally again on Roxette's radar. I had seven friends booked to the concert and unfortunately Per got sick on the plane and never made it and couldn't reschedule, because the schedule was too full with their upcoming tour of Australia. Luckily I had never dreamed that they would come to New Zealand and so I had bought tickets to the Australian concert prior just in case. I went across the ditch with my girlfriend. We dressed up as Per and Marie and I had the time of my life. It was a dream come true even if we were a hundred rows back.
Well, fast forward to 2015 and they've finally made it to my home town Auckland, "New Zea" as Per fondly puts it. Vector Arena was packed, but perhaps not entirely sold out. I guess it's been a long time coming so for many Roxette had drifted out of their consciousness a bit. Oh they still get played on the radio, "It Must Have Been Love", "The Look", "Listen to Your Heart" and, if you are lucky, "Joyride", "Dressed For Success" and "Dangerous" and even very occasionally maybe a fling with "Fading Like A Flower". But I think most kiwis would be surprised to know that they have been recording and touring a long while after those numbers. Most kiwis would dismiss them as a late '80s early '90s band. But tonight I think Roxette earned the respect of a big kiwi crowd as being much more than that. I think a lot of New Zealanders wouldn't even know what happened to Marie and the amazing journey she has been through. But I think it was pretty obvious to them by the fact that she needed help getting on stage, and that she wasn't nearly as mobile as they'd remembered her in the music videos, that something was up. A few of my entourage didn't know and felt a huge amount of respect for her after seeing her perform tonight. I think actually the audience were really rooting for her even more because of her struggle.
In terms of the concert though, Ekko Park opened. – a kiwi band, and it is really nice that Roxette call on local support acts to support them. They were a good indie band and enjoyed their time in the limelight. When Roxette came on, for the first two songs I was up taking photos in the pit so it was hard to comment on them, but there was definitely a huge sense of anticipation in the audience. I think there were others like me who had been waiting for this moment for 25 years as well. I know of at least two in my entourage. "Sleeping in My Car" was a lot of fun and I thought I noticed Dea and Chris give me a couple of winks. I was wearing my stars and moons jacket and frilly shirt (I was trying to look like Per) so out of the five photographers up in the pit I think I stood out perhaps as the fan boy. I wanted to show them that I loved them I guess. I was kind of lost in the moment to be honest. I couldn't believe I was up there that close to my idols. I didn't really want to be taking photos. I wanted to be dancing, gawping, enjoying this moment that seemed to magic out of nowhere thanks to the most awesome Thomas Evensson (TDR) contacting me. Second came "The Big L", with me taking more photos. I wanted to capture all the band – each and everyone of them in their independent and eclectic glory. The audience were loving it. "Stars" came next. I'm not sure this is one that a lot of kiwis were familiar with, but I was and I was dancing my socks off 15 rows back now, as at this time we had to stop taking photos. Next came one we all knew "Spending My Time" and soon after another big ballad "Crash! Boom! Bang!".
Most fans will be happy that "Crush On You" was brought back into the setlist at this point. I was never much of a fan of "Real Sugar" myself. But "Crush On You" brought the house down even though a lot of kiwis have probably never heard of it. Per's tittle tattle about Magnus favorite album being "Have a Nice Day" and Magnus' reply that no it was "Baladas en Espanol" was perhaps lost on a lot of the audience, as most of them wouldn't be familiar with those albums, but not on the crazed fans like me. "She's Got Nothing On (But The Radio)" kept the upbeat dancy mood going and I think many people were up on their feet for these two. The next song Per introduced as one that they don't play very often, but both me and my mate next to me were in agreement that it was one of our all time favorites and I for one am glad it was included in the setlist. "The Heart Shaped Sea" was performed with a beautiful backdrop of bubbling water. It was really a beautiful moment and it really just had an awesome mood about it, something of those beautiful Swedish folk roots that Marie talks about sometimes and the lyrics are just beautiful, conjuring up far off Scandinavian landscapes. You'd never hear someone saying the term "pray before the winter", or "gathering up the harvest". Our winter is generally quite moderate in temperature. I think for that reason these lyrics have a sense of magic and mystery about them for us kiwis. Next came "Perfect Day" and Marie pulled out a powerhouse performance on this one.
I was looking down at what I thought would be the setlist and expecting "Fading Like a Flower" to be next. They started playing and it didn't occur to me until a little bit in that they'd swapped this for "Almost Unreal". I missed "Fading Like A Flower" perhaps but the surprise was also a nice one. I for one am a sucker for the 'hocus pocus' these Swedes do to me. Per made some funny comments after about how it was a song from a really crap movie – "Super Mario Brothers". "How Do You Do!" seemed to be one that most people knew and were singing along to. At this stage the band was really connecting with audience in all areas of the stadium. When "7Twenty7" came most people didn't know it, however most people loved it and most people were up on their feet dancing along by now. There was great interaction with the audience on this song and Clarence featured with the Prof in a bit of a synth guitar battle towards the back of the stage. And boy did people love the Prof. He was a crowd favorite jumping all around the stage, goose-necking and performing some sort of amazing guitar yoga.
This is where things went up a notch. "It Must Have Been Love" was a crowd favorite and everyone enjoyed singing along. Per commented on how it used to be Christmas song. This might have been lost on a few kiwis. Most of them I think would be unaware of Pearls Of Passion, but I guess to the fans who felt it had been skipped, it's fair to say that they are playing a song from that album in some form or other, even if it was the re-released 1997 version, a bit of a stretch perhaps but hey. It continued with the ones us kiwis all know "Dressed For Success", in which Per and Marie occasionally took different parts and sang it like an echo to each other almost. Everyone was well on their feet by now, and "Dangerous" kept the mood high. It was at this point Per introduced the band. Dea who I now have a crush on, Clarence, Pelle, Magnus and finally Christoffer at which point Christoffer launched into a guitar solo… Now I was curious what Christoffer being a stranger to these parts would pick at this point. He went for "10 guitars" and there was definitely some recognition as people were singing along. Then came "Joyride" and this had a real energy about it before the band left the stage. We knew they were coming back though. After a little hiatus Marie came back out eventually with Dea. And this was one of the moments of the night for me. She sang "Watercolours in the Rain" with such raw and affecting emotion. You could tell this song meant a lot to her. And after all it is one that she wrote.
I think they have been looking at The Daily Roxette because the song made a unique segue at one point and she started sing "Paint me right, I can feel the woman in me tonight". It kind of fit quite well with "Watercolours". Perhaps it's not the version that everyone wanted. Perhaps they wanted it in all its rocky goodness, but it was a nod that these guys really do listen to their fans! And I think it was nice. I remember someone suggesting a medley on one of the forums and this was a bit like that. It soon segued back into "Watercolours" again. Quite apt though don't you think? "Paint" and "Watercolours". A nice little moment was created there. It was like some sort of existential wink. Something a little unexpected. You didn't see that one coming did you? "Listen to Your Heart" has always been a big number and it was huge and Marie was in great form despite having just endured a what 30 hour flight from Sweden perhaps and also being in completely different time zones (12 hours difference). Her body was having difficulty, her voice occasionally faltered but you know what's great about it is she stands up there and she says this is me and I'm being vulnerable in front of thousands of people. I'm prepared to be vulnerable. And in that vulnerability is huge strength.
A few people commented as to why someone didn't mention that Marie was ill. There was no need. And the audience was rooting for her all along. They could see it was difficult, she was struggling at times, but they were rooting for her because she was being human. She had faced adversity and she had overcome it and still was right there on that stage and she took us on a journey. That's why those lyrics of hers "It seems I've been running all my life" were so poignant tonight because she wasn't running at all. She was standing up there in front of us all and saying this is me and I'm OK with that and it was purely magnificent.
"The Look" was amazing. No matter how many times you've heard this song hearing it live in all its full glory is spectacular. Christoffer was doing his thing, Per was dancing his socks off and the whole band seemed to lift to an entire new level on this song. You could tell they were having fun on stage. You could tell they were enjoying the adoration of the kiwi fans. Finally came "Queen Of Rain" and this for me is a beautiful song and was so happy to hear that they were including it. Tourism is my favorite album and I would be happy if they had just played that whole album. What I was surprised to hear was that some of my friends who had never heard this song before commented this was one of their favorite songs of the night. Others said "The Look", "It Must Have Been Love" or "Listen to Your Heart". For me it was "The Heart Shaped Sea", "Crush On You" and the "Watercolours/Paint" medley that were my faves, as I guess for me on these numbers everything just seemed to click in a magical kind of way. And so my little band of magic friends were blown away by the concert. Most of them were casual fans, with me the diehard fan. But I think perhaps tonight they probably found a new found respect for these Swedes with their big air hair, the goose-necking guitar yoga and their powerhouse voices, crazy dance moves and awesome sense of humor. Per said he would come again soon.
You could tell when they left the stage what wonderful people Marie and Per are. They stood there for a long moment and acknowledged people. Then as Per helped Marie offstage they turned around and waved again. Later when I met Professor Christoffer, he said he wanted to move here. Well we sure hope you do, we sure hope you do.