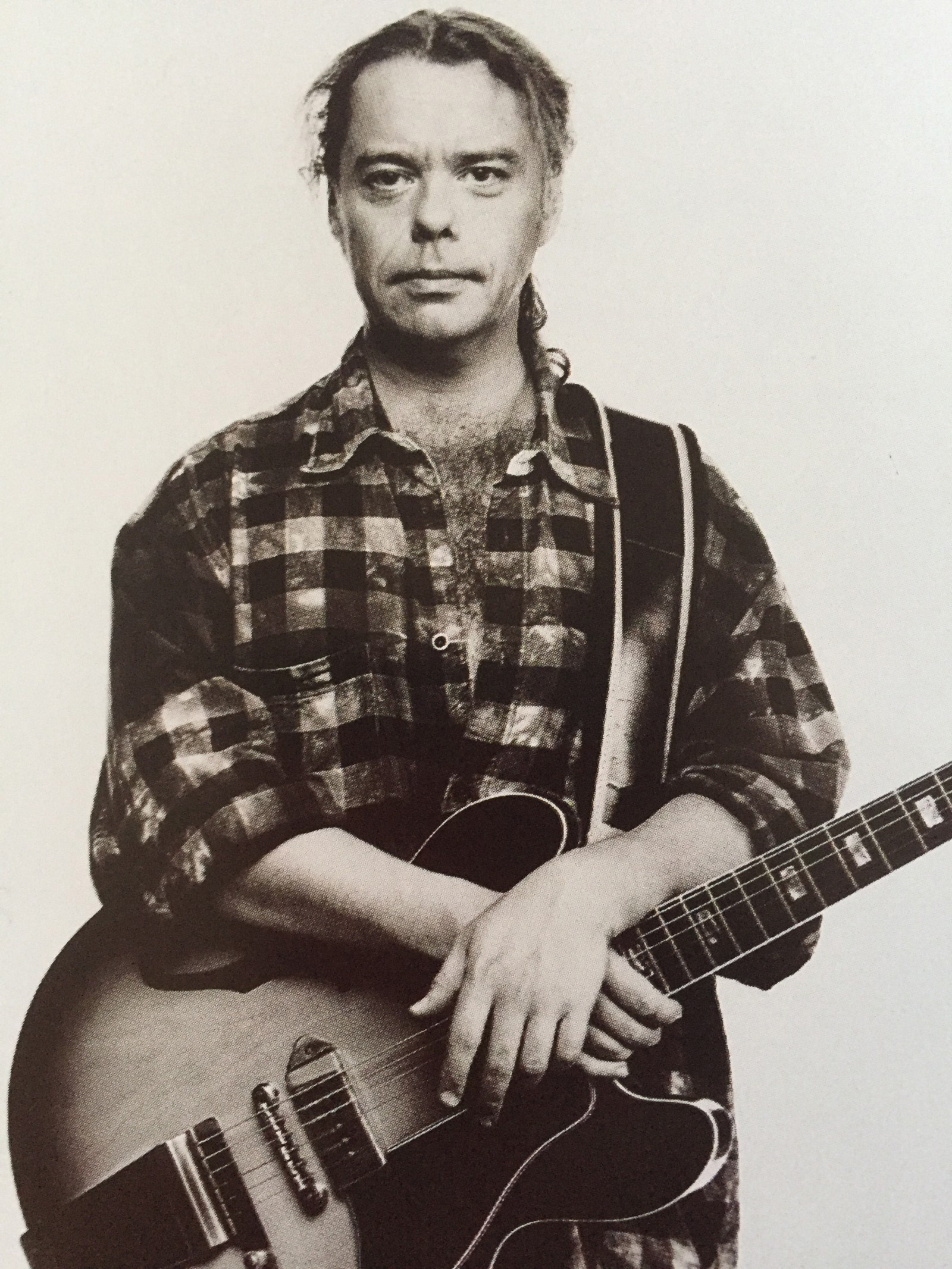 Jonas Isacsson meets The Daily Roxette
FEATURE – With the holiday season in full swing, we thought it was a good chance to have a chat with legendary Roxette guitarist Jonas Isacsson for a trip down memory lane!
"…And last but certainly not least, on lead guitar, Mister Jonas Isacsson…" Per Gessle would say as he introduced the final member of the Roxette band before a stadium filled with screaming fans.
He's the man with the guitar and for those uninitiated, Jonas Isacsson was a foundation Roxette band member handpicked in 1986 by Producer Clarence Öfwerman to join the Roxette studio and touring band along with drummer Pelle Alsing and bassist Tommy Cassemar (who would be later replaced by Gyllene Tider bass player Anders Herrlin and others).
With a musical career spanning many decades, Jonas is most recognized for his instantly identifiable work with Roxette. Most famous for his iconic guitar riff on "The Look" (cleverly spotted by Per Gessle in the studio during a recording of the song), Jonas played on all the Roxette albums from 1986's debut Pearls of Passion up until 2001's Room Service album, including the Room Service Tour. Jonas' work popped up on the compilation albums of 2002 and would later made sporadic appearances throughout the bulk of the 2000s during Roxette's dormant years.
However, it wasn't until 2009 when Marie Fredriksson was finally able to return to Roxette did we see Jonas and his big red guitar back up on stage again during what would become his swansong tour with the group during the special Night of the Proms concerts where Roxette played their classic hits before a grand orchestra – before playing his final Roxette gig at Princess Victoria's wedding in 2010.
Like most Swedes, Jonas doesn't exactly evoke the image of a wild rock star, a quiet and unassuming type, sometimes it's easy to forget that this is the man responsible for those classic wild rocking guitar moments we hear on songs like "Hotblooded" or those energetic solos during the live versions of "Soul Deep" among many others.  So it is a great and humbling honor that this revered musician took the time to have a long overdue chat with The Daily Roxette as we take a trip down memory lane as Jonas shares some of his fondest thoughts and most personal accounts during his long tenure with the band.
TDR: Jonas, thanks for the taking the time to speak to The Daily Roxette. Tell us, what have you been up to lately? Are you working on any musical projects at the moment?
Jonas: I have been doing guitar overdubs for a new project which I can't talk about. I can say though that it's going to be good. I really enjoy recording, it gets the creative juices flowing.
TDR:  Let's talk Roxette. Let's go back to the early days, back in the mid '80s, yourself, along with Pelle, were selected by Clarence to join the Roxette band. What were your very first feelings when you were asked to join a band fronted by the former front man of Gyllene Tider and the rising star Marie Fredriksson? What were your realistic expectations at the time? Did you like the style of pop songs you were presented with? And did you ever imagine it would be turn into an international success?
Jonas: Didn't know I was joining a band, Roxette was Marie & Per and I got the gig as a session player. I did so many sessions in those days and Clarence was the producer on 3 or 4 of the albums I worked on during and around that time. I knew they had a big hit with their first single "Neverending Love" which MP (Gyllene Tider) played guitar on. But when it came to recording their  first album, I got the call from Clarence, together with Tommy Cassemar and Pelle Alsing. I never imagined anything while recording, I concentrated on what I was playing and what riffs fit with the song. But afterwards it's nice to hear the recording on the radio and if it gets airplay in many countries it's even nicer.
TDR: If you weren't involved with the band, is Roxette the type of music you would have listened to back in the '80s and '90s? Would you have bought one or two of their records at the time?
Jonas: No, not in those days, I might have enjoyed hearing a Rox-song on the radio but I would never buy an album, but if Clarence still was the producer I'd call him and get a free copy instead. They are two totally different things; to work with music and to listen to music. To play like I did in those days, I needed to get ideas and techniques from totally different stuff other than Roxette, otherwise it would not have turned out and sounded the way it did.
TDR: You have a very unique playing style, it's instantly recognizable. How would you describe your guitar style? Who were your greatest influences?
Jonas: Thank you, that's a nice compliment. For me it has always been important to have big ears, listening to all kinds of music. Old stuff, new stuff, not necessarily only guitars, not being too quick to judge a song or playing. Ideas have always been more interesting than performance to me, something to get inspiration from. Then when you get the grip of the musical ideas you like you turn it in to your own thing and perform it the way you would like to hear it.
The first guitar solo that hit me was "Rock Around The Clock" by Bill Haley & His Comets, I was a little kid when I heard it, my Dad had the record on a 78 rpm. That solo by Danny Cedron was the very first eye opener. Then I learned from The Shadows, The Beatles, The Kinks, The Who, The Byrds, The Rolling Stones, Cream, Jimi Hendrix, Pink Floyd, Fleetwood Mac with Peter Green, Led Zeppelin, Jeff Beck, Deep Purple, Black Sabbath, Wishbone Ash, James Burton, Steve Cropper, The Band, Creedence,  Hank Williams, Joni Mitchell, Gillian Welch, Buck Owens, Yes, Genesis with Peter Gabriel, Eddie Van Halen, Return To Forever, Weather Report, Alan Holdsworth, John Scofield, Frank Zappa, REM, Johnny Marr, The Edge, Mike Campbell… to name a few haha! The list goes on and on. There  are so many, all different music styles, great players and good songs I'm influenced by and have stolen from.
TDR: Speaking of solos, let's talk guitars: what are your favorite guitars to play? Do you have a large collection of guitars? Is there any one guitar that's particularly special to you?
Jonas: I used to have a pretty big collection of guitars, but due to some back taxes I had to sell the ones I didn't use. Now I have 10 guitars left and I'm using all of them. My favorites are the 'Arvidson Red Flame' and the 'Arvidson Red Tele'. Arne Arvidsson is a Swedish guitar builder and friend which I got 5 guitars from. The 12-string electric he built is also a wonderful and beautiful guitar. I also use a 'Norman Acoustic 6-string' a 'Fender Jazzmaster Bass' and an 'Epiphone Riviera 1964'.
TDR: In his book, Songs, Sketches and Reflections, Per constantly references you and your work. In fact, describing "(Do You Get) Excited?" from Joyride, Per says the following "…Clarence's stylish production, Jonas Isacsson's guitar style and Marie's sensual singing is what classic Roxette is all about…" – That's a big statement, how do you feel hearing that from the man behind Roxette that you're one of the main three ingredients to Roxette's classic sound?
Jonas: That is great to hear coming from Per, I haven't read the book yet but it makes me smile that he thinks so. I would also mention Alar Suurna, the sound engineer, as an important person in the teamwork. That's what it was, teamwork! I'm proud of being a part of the classic albums. They all came out good but Joyride is the best one for me, that was the peak. After Tourism it went in a different direction, which it probably had to. Music has to move forward, shouldn't stay still. Unless you are AC/DC, they get away with it.
TDR: Of course we all have to respect everyone's wishes and without trying to bring up an old topic, it's very clear through social media at least, that if you ask the diehard Roxette fans around the globe if they could bring just one member back into the current band, it would be Jonas Isacsson without any doubt. How does this loyalty, passion and love make you feel?
Jonas: It makes me proud and happy that I have made such an impact on so many people around the world by just playing the guitar. I really love all my supporters out there, warms my heart. Thanks everybody!
Per said a couple of years ago that he was certain that me and Roxette would work together again. I'm not too sure about that, Rox is another band nowadays with another sound, times have changed as well. What I was and sounded like back then is not what I am and feel comfortable with music wise and personally today.
It was fun to do 'Night Of The Proms' back in 2009 but I think that was it for me. Maybe I could join for a song or two when Roxette gets inducted to The Rock'n Roll Hall Of Fame. Getting back to your question. All my supporters make me happy and proud, I feel their love. Thanks again.
TDR: Tell us some of your favorite memories from your time with Roxette.
Jonas: When we recorded in Ocean Way Studios Los Angeles for Tourism. Greg Leisz joined us on pedal-steel guitar for the country-ish version of "It Must Have Been Love", which sounds good. I remember Mick Fleetwood walked in when we were hanging out at the reception. Both me and Pelle were reading his book at the time and all of a sudden he was there in person, have to admit I got a little starstruck.  And when we recorded "Help" in Abbey Road studios in London, the same studio where The Beatles recorded their original version of the song. Good memories.
TDR:  In an interview featured in the Crash! Boom! Bang! Tour Programme, you mentioned that your favorite Roxette songs were "Almost Unreal" and "Watercolours in the Rain". Now in 2015, looking back, what would you say are your favorite Roxette songs?
Jonas: I still have those songs as favorites together with "(Do You Get) Excited?", "The Heart Shaped Sea", "Wish I Could Fly" and "Church Of Your Heart".
TDR: Strictly from a musical point of view, what do you think was the best Roxette tour in terms of a live sound?
Jonas: The Look Sharp! winter, spring and summer tour, I think it was back in 1989. The band had a hunger to play and the big worldwide success hadn't hit yet, we were "virgins". The Join the Joyride World Tour was also good music wise, even if the format became too big. But I'm glad to have done all the big tours and played the big arenas, to have been able to play my guitar in countries I would never have visited if not for Roxette. And being an arena rocker for a while was real good fun, the response from the audience and fans was so great. That will always mean a lot to me.
TDR: Forgetting crowd reaction or chart success, looking back, what are some of your favorite Roxette songs to play, purely from a musician's point of view?
Jonas: I always enjoyed playing "Dangerous". Great intro, fun verse riffs, power chords and a 16-bar solo on top of that. "Wish I Could Fly" has a good groove to sink in to and it sounds good live, especially on the NOTP Tour. And the intro to "Soul Deep" with Marie was fun of course.
TDR: Looking back, are there any songs where you shake your head and think, "that's not a great song"?
Jonas: "Physical Fascination" is really horrible, I didn't get it when we recorded it, still don't get it. "Milk & Toast & Honey" never made it to my top 10 either, but Marie is beautiful in the video.
TDR: Do you ever hear an old Roxette song these days and think "I wish I played that differently, I wish we had an extra pause there? I wish the solo was shorter, etc etc etc" – do you ever critique yourself or wish you could fix certain sounds on certain songs?
Jonas: Yes that happens. I think its great to have the radio on and hear an old Roxette song now and then. The last time it happened was when I was visiting my mother and father up in Seskarö. Dad was listening to the radio and I heard his voice shouting  "…Jonas! They are playing "The Look" on the radio!" I went in to his room and he had the radio on at full blast, nearly head banged to the song and he said "…Jonas! Great playing". That brought tears to my eyes. My Mother and Father bought me my first guitar and amplifier and still are my greatest fans. Bless them. Some of the guitar work I've done is cool to hear, some of it is not. But on the other hand, its too late to have an opinion about it, it has been released and it's out there for all to hear. Move on and smile.
TDR: Talk me through what the creative process was like back in the studio. Listening to a lot of Per's old demos, you can hear MP's guitar contribution to a lot of songs so how much freedom were you given to create something new or was your job to strictly play what Per and Clarence had in their mind?
Jonas: In the beginning of Roxette there was not that much demos. On the recording of Pearls Of Passion I didn't hear no demos at all. Recording Look Sharp! there was a few demos, but I didn't try to sound like them, I did my own thing.
"The Look" was an open canvas, no guitars on the demo. Per wanted a ZZ Top sound. Drum machines with a Rock'n Roll guitar on top of it. I had written a couple of songs with my then girlfriend Marianne Flynner. I played the riff from one of our songs during the recording of "The Look" in the solo bars of the song. Per, Clarence and Alar went bonkers and said in the talk-back microphone to me "What the hell was that"? I responded that it was a riff I came up with the other night with Marianne and maybe we can use it as a solo riff? Per instantly wanted it as a opening riff for the song. I thought "yeah, why not?" We recorded it and it worked! Then we put it in here and there in the song and it became "The Look" guitar riff. 
It was a backwards thing. Ritchie Blackmore came up with the riff to "Smoke On The Water" and they made a big hit song from it. Per had made "The Look" and my riff fit in to his song perfectly. People say to me still that I should have had songwriting credits for that riff, but that was the way I worked in those days. I did melodies and riffs for Eva Dahlgren, Hansson De Wolfe United in the same way as I did for Roxette. Didn't get me songwriting credits but I got salary to pay my rent.
TDR: When people think of famous and classic guitar riffs, people always think of rock bands – they tend to forget pop bands, but when it comes to pop music, that classic intro to "The Look" has to be one of the most famous guitar riffs on the planet. When you played it the very first time, did you get a feeling back then that this was something special?
Jonas: As I said before, it was a riff I had and liked and it fit into Per's song. The riff was special even before the recording of "The Look". I fooled around with it on one of Marianne Flynners and my songs. I got the idea from George Harrison's, The Beatles song, "I Want To Tell You". There are more riffs from me in the Roxette catalogue which I'm also proud of.
TDR: Per once told a story that during the recording of "Opportunity Nox" that he performed the guitar solo and played it to you over the phone and you said that it was fine and that you didn't need to re-record it for the record. Tell us a bit about that.
Jonas: I can't remember to be honest. But I really like that solo, that song and that video! Great stuff. Add that one to my favorite Roxette songs.
TDR: Musically speaking, what are you most proud of in terms of what you created or contributed to Roxette?
Jonas: What we did as a team. Me, Clarence, Per, Alar, Marie and Anders Herrlin. It was great fun and a creative process which I've learned a lot from.
TDR: Back in the day with Roxette, what did you enjoy the most? Working with the team in the studio? Or playing your creations live on stage?
Jonas: First mostly in the studio, which is my way of contributing to music. Playing live with Roxette was more of a theater kind of thing for me, great fun to play the role of a guitar hero.
TDR: What type of concerts did you prefer to play? The smaller intimate shows like the MTV Unplugged concert? Or wild and crazy soccer arenas in South America for example?
Jonas: I like both. In the middle of the Joyride tour we played a club in Chicago, it was such a nice change and it brought everything down to earth again. But the big arenas in South America were also fun, but more like an experience than making good music.
TDR: For the 1994-95 Crash! Boom! Bang! Tour, Micke Andersson joined you on stage as a co-lead guitarist. Looking back, did you like the idea of having two lead guitarists and why did the band decide to add an extra player back then? Because it went back to just you for 2001 Room Service Tour.
Jonas: It was my idea to have 2 guitar players. There was so much guitars on the albums, just couldn't do it myself. I suggested MP because he was already involved in Roxette and a great player and great guy. But then Marie told me they had already hired Micke Nord Andersson.
TDR: Do you feel Micke's guitar style complimented your style?
Jonas: From the beginning I didn't. But we grew together as duo players and by the end of the tour it sounded real good. Micke is a nice person, he reminds me of my elder brother whose name also is Mikael.
TDR: A fun memory for a lot of fans is the way you and Marie used to improvise during the intro of "Soul Deep" back on the Join the Joyride Tour – it was such a great moment when she would say "OK Jonas, give me some guitar…" –  Tell us a bit about that experience.
Jonas: It was a lot of fun, a bit of a classic thing to do in a live performance. The Ian Gillan/ Ritchie Blackmore vocal/guitar battle thing.
TDR: Another classic moment with you and Marie on stage was during the acoustic version of "Cry" during the Crash! Boom! Bang! Tour. It shows off how versatile you are as a musician. You can shred the electric guitar during a song like "Hotblooded", but also show off a bluesy side during "Cry". Tell us about playing slide guitar during that song.
Jonas: I am actually not that good slide guitar player. When we did "Cry", I emulated the sound of the Delta Blues, no where near the real thing. But with Marie's great vocal on top, it sounded quite good I think. And it was also nice to have another kind of duo thing other than the "Soul Deep" intro. A slide guitar player I enjoy listening to nowadays is Derek Trucks, fantastic player.
TDR: Let's talk a bit about Marie, how did you feel when you heard the terrible news back in 2002? And what do you think of her miraculous come back?
Jonas: I was shocked and sad and thought about her family and kids. And it was also an alarm clock for me not to plan too far ahead, life is such a fragile thing, anything can happen so take care of every precious day. When we did NOTP back in 2009 I understood that it will work, Marie is back!
TDR: Just getting back to "The Look". Earlier this year, Roxette released a 2015 Re-make of "The Look".  Did you hear it? What did you think of it?
Jonas: I did of course listen to it as soon I found it on Spotify. I think it sounds more like a re-mix than a new version. Every important part of the song is there but with slightly different sounds. Even my old guitar riff and guitar arrangements is still there, well played but with the feeling of a cover version. Maybe it is my guitars, they sampled them, haha! That would be good for my SAMI Airplay money. They should have turned the song inside out and come up with a new riff, maybe not even played on a guitar. The original version has more of a nerve and happy exploring studio creativity on it. But they obviously wanted to do a new one for the television commercial.
TDR: Not every song can be famous like "The Look". And Per once spoke to Sven Lindström about "Fool" and he said that once you stepped in and played the guitar in your special style it really changed the dynamic of the song. Can you think of any other examples where your style of playing really changed the vibe of the song?
Jonas: "Fool" came out good. There are so many songs we recorded as a team back in the old days, I think everybody together changed lots of stuff. One song I remember was "Church Of Your Heart". I got the demo from Per which he and MP had done and it sounded great. Then when we recorded it, they had done a new backing track for it and it sounded very boring. I couldn't hide my opinion and asked them "what the hell have you done?" Marie and Clarence didn't like the MP and Per demo so that's why they changed it. I thought it was a waste of a good song and said go back to the original version, which Per and Alar also thought, so we did. That was something I contributed to. Otherwise it would never had made it to the album.
TDR: Did you get a chance to listen to recent material like Charm School and Travelling? If so, what were your thoughts?
Jonas: They sent me the records but I haven't listened to them. I heard "She's Got Nothing On But The Radio" which is alright I think.
TDR: Something that people forget is that you also appeared in the video for "Fading Like a Flower". Did you enjoy doing those type of things too? Or were you more comfortable in the studio and on stage?
Jonas: I think I was in the videos for "Listen To Your Heart", "Dangerous", "Church Of Your Heart" too. It was a lot of waiting I remember, quite boring work actually.
TDR: Jonas Åkerlund made a movie called "Roxette Diaries" – have you had a chance to see it? If so, what did you think of it?
Yeah, I saw the Diaries movie. Haha! We all had video cameras in those days, I got hours of film from the Joyride tour, so it wasn't that new to me. A couple of embarrasing moments though but I think Jonas Åkerlund did a kind and nice edit, it could have been much worse and embarrassing…
TDR: Moving on to more recent things, we heard that at one point, you and Pelle Alsing and Tommy Cassemar were playing in an Americana style rock band that would eventually become Down Harrison, but the album came out and you were not a part of it. What happened?
Jonas: Before NOTP back in 2009 I worked with my old band Hansson de Wolfe United as a producer and we had to get that album 'Elektriskt Blått' (Electric Blue) ready before I went on the proms tour. During that same time Down Harrison recorded stuff with the same time limit, I just had to choose which band to play in. Pelle Alsing and I had a talk during the NOTP Tour and he wanted me to show more interest in the Down Harrison project, that made me think. Maybe I am not that interested, and I wasn't, so instead of me being a weight for them, I quit. We also had a tour booked with Hansson de Wolfe United in March 2010 so it was more solid to carry on with them. I like Down Harrison very much though, good debut album.
TDR: If you could have played for any artist/band of any era, which group would you have liked to have worked with? Give us your top three.
Jonas: Difficult question. I'm happy with the bands and artists I have been working together with so far. Being a freelance musician is like that, whoever you play with at the moment is fun and most satisfying, if it isn't, you try to make it.
TDR: So tell us, what does the future hold for Jonas Isacsson? You still have so many fans out there who desperately love your work.
Jonas: I am writing instrumental music and fooling around in my home studio. Will do some guitar overdubs on new Hansson de Wolfe United songs and maybe tour with them in 2016. Have to say it again, I am so happy and proud that so many Roxette fans still like my playing that much. It is truly a heart warmer. Love you all!
—
And with that, our chat with Jonas comes to end. On behalf of all the team at The Daily Roxette we really hope you enjoyed this interview with Jonas Isacsson. From a personal point of view, this was an absolute privilege – gaining an insight into the man who played such an integral part of the Roxette sound that we all fell in love with decades ago and whose legacy still lives on to this day, it was a tremendous thrill to be able to, in some small way, pay tribute to him and to share this article with the Roxette and Jonas fans out there!