Per sends year-end greetings to TDR readers
HALMSTAD –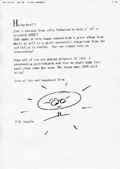 In a fax message sent today to the TDR newsroom, Per wishes the readers of The Daily Roxette a splendid 2005…
He-he-hey!!!
Just a quickie from jolly Halmstad to wish y'all a splendid 2005!!
2004 made us very happy indeed with a great album from Marie as well as a quite successful album/tour from the old fellas in GeeTee. You can always rely on homecooking!
Hope all of you are making progress in life's neverending goobledegook and that we might bump into each other some day soon. Who knows what 2005 will bring?
Lots of luv and happiness from
P.H. Gezzle
This article was written for an earlier version of The Daily Roxette.
Technical errors may occur.