Lawsuit postponed as Expressen claims their story about Marie was correct
STOCKHOLM –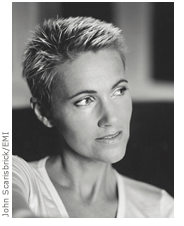 The lawsuit between Marie Fredriksson and Expressen has taken a sudden turn. Just days before the case was to go to trial, Expressen suddenly claims they where right after all – that their story was factual – even though they had issued an apology earlier.
According to Marie's lawyer, Leif Silbersky, this means that the court case will need to be postponed to a later date.
Expressen published an article in the spring that Marie had an additional tumor. Marie and her lawyer denied this and Expressen later apologized. This wasn't enough for Marie, who has sued Expressen for a half-million kronor ($62,000).
Marie has also, via her attorneys, filed a report to the police about her hospital breaking their professional secrecy about her condition. "The information given to Expressen is of the nature that it can only come from someone employed at the hospital, and with access to Marie's files," Silbersky states. Karolinska sjukhuset, the hospital in question, welcomes the report. "Our clients' integrity is one of our corner stones," Margareta Hamark, information manager of the hospital, says to Journalisten.
"Criz" contributed to this article.
This article was written for an earlier version of The Daily Roxette.
Technical errors may occur.