Helena Josefsson to appear on Swedish musical game show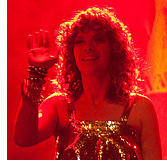 Helena Josefsson, who sings backup with Roxette on the current tour, will be one of the guests on the very popular swedish TV-show "Så ska det låta" ("As it should sound", based on the Irish show "The Lyrics Board") when it is broadcast on April 1.
The show is a musical contest between two teams. Each team consists of two celebrity guests and a piano player. They choose numbers to what song title that hides behind them. After choosing a number the team should sing a song with that word in it, or guess which song title that is hiding behind the numbers. The show is one of the most watched TV-shows in Sweden with around 2 million viewers each week (keep in mind that Sweden only has a population of nearly 9.5 million). The former host of the show said in an interview once that Per Gessle was one of the artists on his wish list for future guests in the show. The show with Helena will be aired at 20:00 CET on SVT1.
Two other "Rox-related" names will appear on the show this season: Niklas Strömstedt (April 29) and Patrik Isaksson (May 6).
For a little taste of the show, here's a clip where they sing "It Must Have Been Love" in the beginning. And in this clip, the Swedish singer and actress Anna Sahlene (who played Anna in the Astrid Lindgren movie "Alla vi barn i Bullerbyn" ("The Bullerby Children") sings Marie Fredriksson's "Tro."
This article was written for an earlier version of The Daily Roxette.
Technical errors may occur.


March 9th, 2011


Internal reference code for TDR's Good Reporters: [tdr 85156]

This article was posted here on TDR in these categories:

TDR:Misc, vintage.