"One Wish" – Roxette's long-awaited new single
STOCKHOLM (UPDATED) –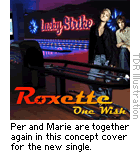 Roxette's forthcoming single is titled "One Wish" and is described by Per as an uptempo song… and a duet. "It's short, thank God!" The single is slated to be released September 20 in Sweden and September 22 in Germany, as previously reported. Per also confirms that the B-side is indeed "The Rox Medley." The single has the catalog number 0946-3718902.
  Per is probably the only one who thinks it's great that the song is short…
  Update: Per's let us know that since people seem to be concerned with the length of the new song, "…it's 2:59 or 3:01 – depending on the mood!"
This article was written for an earlier version of The Daily Roxette.
Technical errors may occur.