STOCKHOLM (UPDATED) –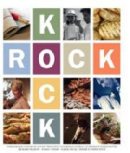 Marie Fredriksson and her husband Micke Bolyos are participating in a cookbook together with 16 other Swedish artists. The book, titled "Kockrock" ("Rock Chefs"), will be available in stores in May.
The book is a compilation of recipes from artists who have, over the past three years, been guest chefs at Solsidan, a restaurant in Torekov, located on the west coast of Skåne (Sweden's southernmost province).
  Marie and her husband were the first to participate in what became a popular series known as "Kockrock."
  "It was a magical night. Marie and Micke are ultra-food-freaks and they were very enthusiastic in the kitchen," says Robert Nilsson who runs Solsidan together with his brother Rikard.
  Since then, many other artists have been guest cooks in the Solsidan kitchen.
  Marie and Micke's contribution to the book is "Asiatiska oxfilérullader" (Asian beef filet rolls).
  Late last year, Per Gessle had a recipe for bread in "Our Daily Bread…", a recipe book published by the Swedish Salvation Army.
EDITOR'S NOTE: We've updated this article to more accurately reflect that this book is a collection of recipes from "guest rock chef" events that have been going on for almost three years now. — LEO
This article was written for an earlier version of The Daily Roxette.
Technical errors may occur.