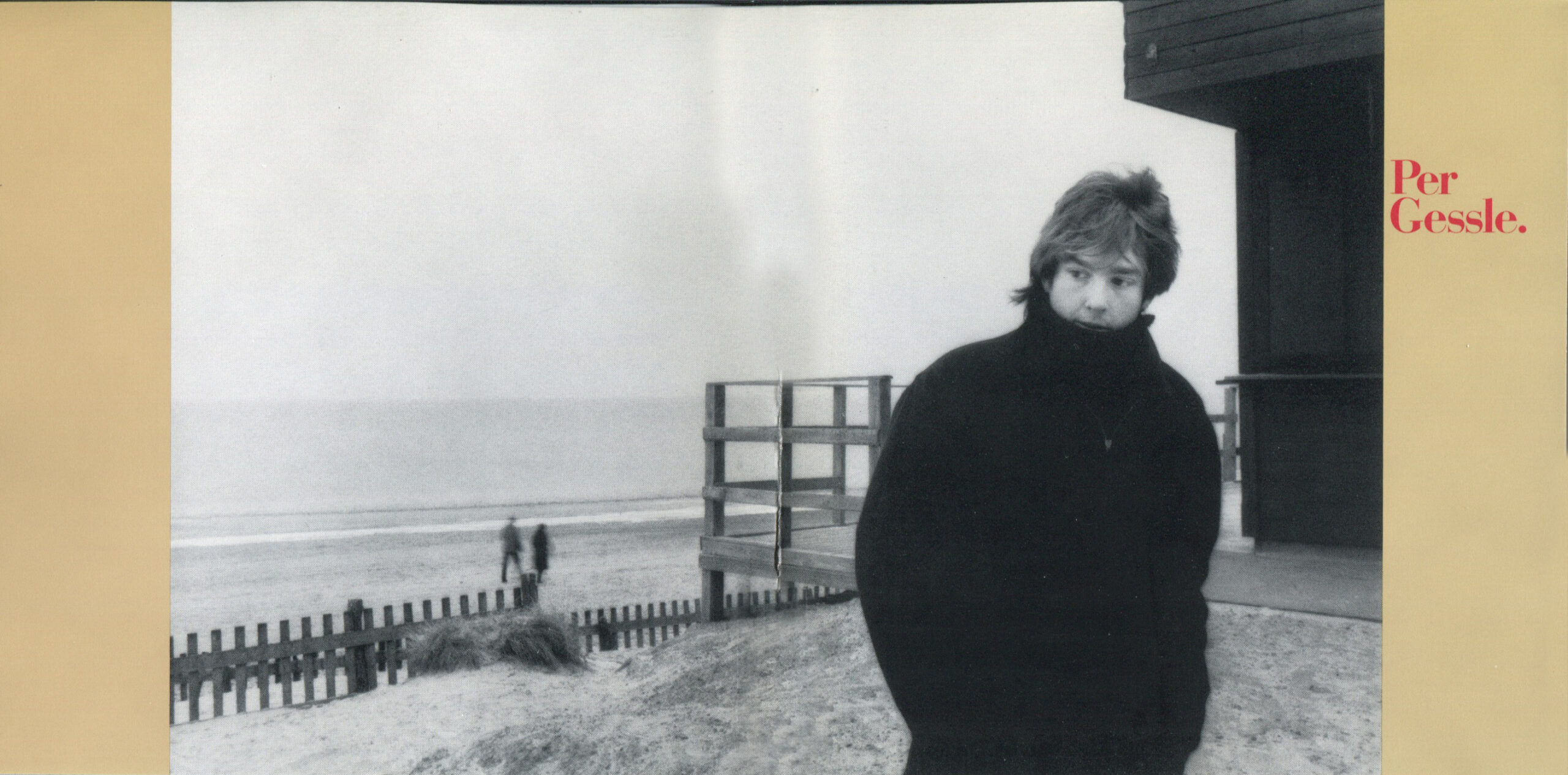 Today it's 40 years ago this little jewel was released. Time certainly flies… I remember buying this at the Lilla Huset record store here in Ljusdal, and it feels like… last month? I think it cost something like 48 SEK. Last week I bought the "Chans" single and it was 169 SEK.
In 1983 all of the guys in Gyllene Tider were drafted and had to do their obligatory military service at I16 in Halmstad. The draft was long overdue due to their constant touring. Per said he had issues that made him a bad fit for the army (he didn't look good in green, he stated) and got a green card (the irony). Knowing Per he can't not work for periods longer than 6 minutes, so he decided to release a solo album, his first.
He wrote "På väg" with Niklas Strömstedt and ruffled up another 12-15 tracks to be recorded at EMI Studios in Stockholm, with other musicians than his normal four besties. A challenge indeed. He, or more likely Lasse Lindbom, brought in loads of session players. The major ones on the album were Hasse Olsson on Hammond organ, Magnus Persson on drums and Backa-Hans Eriksson on bass guitar among many others such as Kjell Öhman accordion, Niklas Strömstedt backing vocals & keyboards, Kjell Johansson banjo, Janne Bark guitars and of course Marie Fredriksson vocals.
Per wanted a more grown up sound on this album, therefore they changed the Farfisa to a real Hammond and also lowered the keys of the songs to not make him sound like the teenage hitmaker he was. The lyrics also feel "older", "wiser", not the same as Gyllene's lyrics. I mean he was 24 after all! Overall the album feels rather introspective, sound and lyric wise. Per says it has a "Halmstad spirit" over it.
Now, were these good decisions? Hard to say, the album didn't really sell as well as the Gyllene Tider albums for sure, but easily passed the gold record status (50,000 copies) in a couple of months, which is way better than most artists back then.
It is a good album and somewhat underrated in my opinion. I don't remember the reviews, but I can imagine they weren't top notch knowing the Swedish reviewers and how they felt about Gyllene. The best track by far is "Regn" but also "På väg" and "Syrenernas tid" are nice little gems. "Syrenernas Tid" was by the way the original title of the album. "Regn" was recorded in English in 1984, a demo which Per hates but isn't nearly that bad. It's called "Run to Me" in English. Rumors have it you can find it on YouTube. It was also recorded by German-American artist Christopher Barker a few years later.
Per covered two tracks; his longtime idol John Holm's "Den öde stranden", a song Gyllene Tider would play for a short while on the 1996 Återtåget tour, and also John Sebastian's "Stories We Could Tell". Per and Anders (Herrlin) met John Sebastian in Los Angeles late 1981 and eventually stayed with John and his family for a week up north in Woodstock. Per also wrote "Timmar av iver" in the States while Anders was watching Japanese horror movies on the TV in the next room.
A single from the album was released (or wasn't if you ask EMI) – "Om du har lust", a duet with the then rather (totally) unknown singer Marie Fredriksson. This single had two new tracks on the B-side; the country inspired "Överallt" and another Strömstedt collaboration "Man varnade för halka". I can't recall ever hearing the single on the radio. It was performed on TV however, also available on YouTube!
"Tända en sticka till" which was written while in the studio in Stockholm was re-recorded for Gammal kärlek rostar aldrig in 2020, this time featuring Helena Josefsson. "Tända" was also the other of the two songs on the album which weren't written in Halmstad,
EMI's Kjell Andersson (who else?) designed the sleeve, with its tasteful black and white photos by Calle Bengtsson. The cover photo was taken out on what looks like a really chilly Tylösand beach, while the first edition gatefold shows Per in a hotel room playing the guitar in front of an ancient TV set, at the Hallandia hotel, nowadays Scandic Hallandia situated close to Stora Torg in the center of Halmstad.
All in all, Per Gessle is a nice album which should by no means be forgotten. It has been re-released a couple of times, but it's very doubtful there will be a 40 box. Here's to hoping though!
The original 1983 track list:
På väg
Hjärtats trakt
Om du har lust
Timmar av iver
Regn
Indiansommar
Historier vi kan (Stories We Could Tell)
Ledmotiv från "Indiansommar"
Den öde stranden
Fiskarnas tecken
Rädd
Tända en sticka till
Syrenernas tid