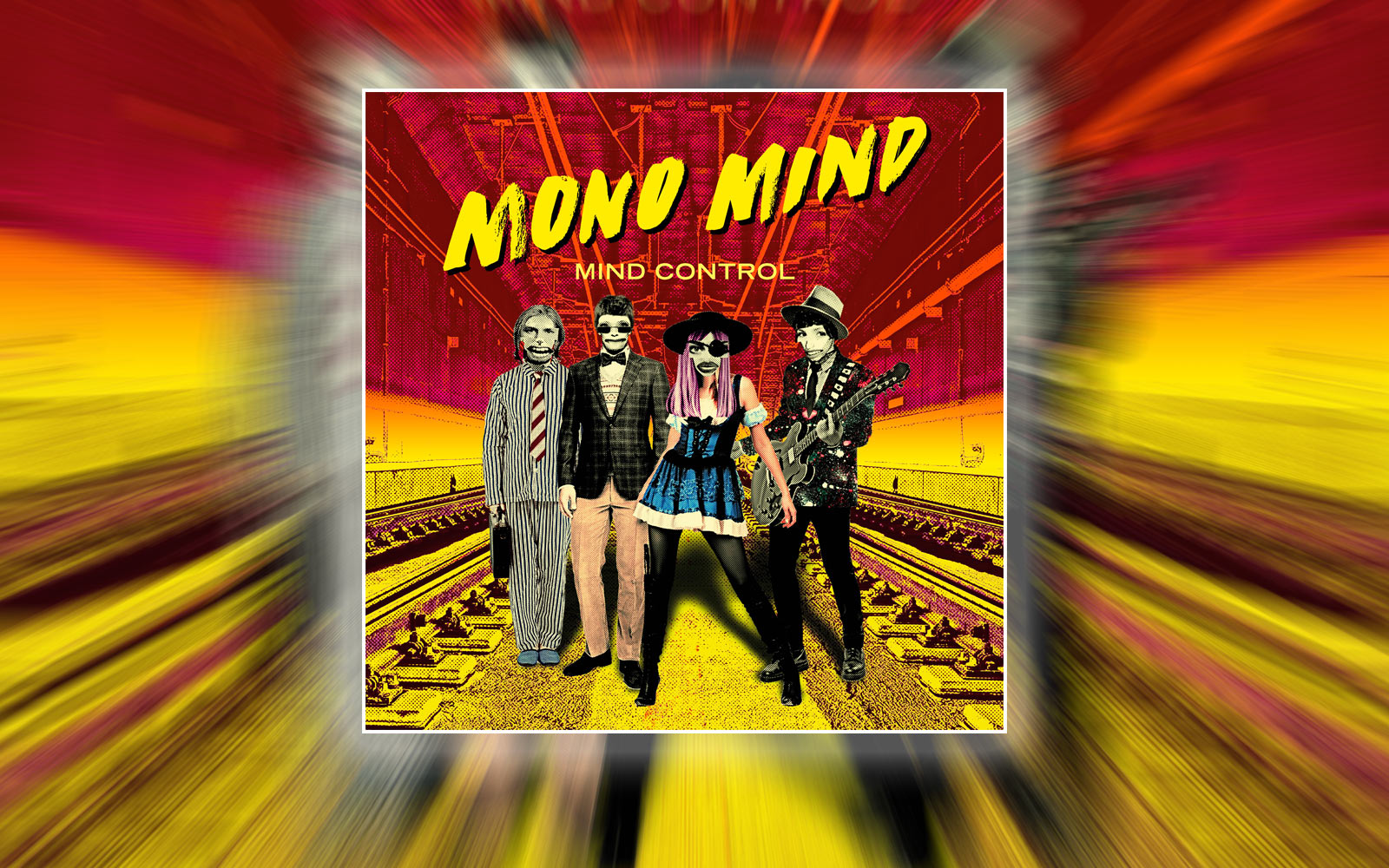 Mono Mind – Mind Control – the review
Well then there now, Per Gessle is behind Mono Mind?? Now that's mind blowing. Who woulda thunk? Per, Christoffer, Clarence and Helena – Dr. Robot, Bright Jones, Rain Davis and Cooky Carter!
With help from outside producers and DJs. Three major hits in the US and France. France where Roxette never really hit the spot! Guess it must have nagged Per that this spot had been left unconquered. Until now!
So, how is "Mind Control?" Surprisingly fresh and modern to come from a 60-year-old 6-stringed pop genius and his cohorts. We have asked Per how many of these were composed for Roxette, and some other great questions:
The Daily Roxette: Wow, a new album! Congrats and grattis! After a long time of playing hide and seek, how come you finally admit that it's your project? (Yeah we knew…)
PG: Hey! I wanted the album to come out as a whole and it's pretty easy to hear I'm on it! So I thought it would be cool to release it on my birthday. The days in the closet are over.

TDR: Rumor has it that David Guetta and people from his producer team participate here. How does the work share look like?
PG: I did some writing with David in 2014 but those songs have not been released or even finalized. Giorgio Tuinfort, who sometimes works with David, has co-written "Save Me A Place".

TDR: Aha, and in which way can we expect live performances, who will be on stage?
PG: Good q. Have you got more up your sleeve?

TDR: Sure: is this going to be a one-off project or do you plan to release more in future?
PG: More to come for sure. I have several things cookin'. Mono Mind will take over your brain. Or is it mine?

TDR: You once said that all your projects are different branches of the same tree. Is Mono Mind a new branch or a reincarnation of an older branch that just hasn't got attention for a while?
PG: It's a new branch but at the same time it's just an extension of my artistry. Just like the other branches are. So you can make up your mind yourself.
TDR: And finally, before you have to run, how many of these are old Roxette songs?
PG: Just one actually, and one is an older song from the '80s!
Thank you Per, and Party On Garth!
Away Away Away
Thomas: This is almost like an ABBA intro, they used to have have an instrumental at the beginning of some albums (or maybe just the one). Good to get you ready for the album
Kai: An instrumental, SOAP style kind of. Makes you think this isn't going to be EDM soon. Nice! Luring you away. This is so Per, ts ts.
Thomas: Very Per! Could easily have fit on "Good Karma."
In Control
Thomas: I like this one! I like the lyrics, they remind me of a very good friend of mine.
Kai: It Just Happens. Do you recognize it? Fine, it's not the same song but the vibes are very very similar. Dreamy, yet powerful. Like an anthem, and then suddenly, in the middle of it, there is this theme from Marvingate, a cunning anticipation to the song that would follow later on this album. This is what a good album is made of: songs that refer to each other. Oh, and then this instrumental in the end again. How unusual and at the same time satisfying! Chris on backing vocals.
Thomas: I missed Marvingate. Sorry. I'll go back. He did the same on SOAP, a theme. Very good song indeed.
LaLaLove
Thomas: This was a rather sizeable hit, but it's not a favorite of mine.
Kai: This song begins a bit stiff but turns into a very memorable melody pretty fast. Something that keeps spinning in your mind for the rest of the day. And the day after. Sure, it's a simple pop song but this is what it makes so great. Sometimes you just need to switch off your mind to enjoy. Try the French version (LaLaL'amour), to be found as a remix on Spotify! I'm back in 3:24.
Thomas: I have to say, this is better this time around. Not a fan of the lyrics, but it doesn't bother me that much. After all, I am a fan of "The Look" and "Joyride"… And La French version? Crazy! Maybe a tad too Tenerife?
Down by the Riverside
Kai: Down by the Riverside… you'd think of the famous old gospel song first but again Per manages to surprise you. Oh-oh oh-oh-oh-oh, anyone? So if any football team in the world is still in urgent need of a signature tune: Here it is! Or you just play it at a random beach club in a warmer country and get stinking rich.
Thomas: Oh-oh-oh for sure. Not a yuge fan yet. It has whistling though!
Best Way to Travel (Bridge & Mountain Remix):
Kai: A remix as regular album track, this always makes me wanna know what happened to the original? Did it sound too 1980s? Will we ever know? Would we even care if so? Doubt it. Nice, easy listening good mood song, best enjoyed when you're travelling somewhere. Oh wait?!
Thomas: Likely an upcoming single. See Marvingate, the remix is here, but not the original. I like this song, could well be a Roxette track. I can't judge the lyrics, because the album is lost in the mail (surprise…) and the robot voice is hard to hear.
I Found My Soul at Marvingate (Sofa Tunes Remix)
Thomas: Also a favorite, however not this remix. The one that's actual pop with some guitar in it. Still the remix is nice, and my daughter loves it.
Kai: Agree. Great, great song, yet I like the original much more. I do understand that this remix fits better into the flow of the album. It should be a world hit, if you ask me.
Thomas: Agree. Too.
Tell Him I Said Hi!
Kai: Oh, this is something new. I don't remember having heard such kind of melody from Per before. It's SOAPish again but not quite. A really really lovely song.
Thomas: This could also be a Roxette song, or SOAP. A mid-tempo song, pondering lyrics (from what I can hear.) A nice bassline in the background. It's not Herrlin, but it could be.
Message of Love
Thomas: Is it just me or does this one have heavy influences of She's Got Nothing On?
Kai: It's always you but you're so right this time. That keyboard in the background, the whole vibe. Still, it's a different song. Nice!
Thomas: Bah! Nice anyways. Both the sound and the melody reminds me of "Radio." In a good way. He-he-hey!
Sugar Rush
Thomas: Now, was this a single or wasn't it?
Kai: No, it wasn't. According to our investigations this was the first song Mono Mind has ever put online but it was removed for unknown reasons very soon after. This should have been the lead single! I loved it from the first time I heard it. It's catchy, simple and very Gessle. Too bad they tried to hide it from us for so long.
Thomas: Didn't much succeed but hey. Thanks for playing. I like it. This must be 2017, no?
Stranger on a Bus
Kai: Can it be this was written for Roxette, actually? Interesting flow, quite refreshing idea with Per speaking while Helena, sorry Cooky, sings. Strange, it's maybe not the most catchy song of the album but certainly the one I have played in loop most often so far.
Thomas: It isn't, but could well have been. Another song that somehow makes you feel at ease, which is funny since this kind of music normally doesn't.
Mile-Melter
Kai: Another instrumental track at first until Dr. Robot jams in. No idea yet where to put it but "Party Pleaser" comes to my mind here. Or Austrian artist Falco, this is probably what he would sound like today if he was still among us.
Thomas: I don't really like it as much as I like others, but I can certainly feel the miles melting away when listening to it. It's, to me, a lot like for instance Crockett's Theme from Miami Vice. And I also thought it was an instrumental, but nope!
Save Me A Place (Bridge & Mountain Remix)
Thomas: Also a single, and a good one at that.
Kai: Nja, of the singles that have been published so far, I like the other ones better. This song has its qualities but I don't see it in heavy rotation on the radio or in a club. It's nice and mellow though. Could have been another Roxette track but only grew enough with the current treatment, I guess.
Thomas: You're right, I mixed it up with Marvingate but I do like that didge sound in the background. The chorus is a bit repetitive though.
Shelter from the Storm (vinyl bonus track)
Kai: "Segla på ett moln," the song that has seen so many reincarnations, is finally making its premiere in English. You can hear that years of tweaking have finally worked out. It's great, emotional and still as powerful as ever. This humming in the beginning… which other song does it remind me of? Gahhhhhh, help me!
Thomas: This is very very nice! I don't recognize the humming, sorry. Cooky does a great job here. Dr. Robot is out for lunch. A very suggestive mid-tempo song. Also made for driving in the rain. I can hear AnneLie Rydé's version in this.
Kai: Got it. Santigold with "I'm a Lady." Yes.
Thomas: Never heard of. Not sure I want to.
Kai: You're getting old, Sir.
Love Is Loud
Kai: There is a Japanese band named World Order, find their video to Machine Civilization on Youtube. Not only is it very interesting (and entertaining) to watch but you will understand why it came to my mind when I listened to Love is Loud. Also, a little of The Dream Academy's Life in a Northern Town. Very interesting mix of bits and pieces that form a catchy pop tune that makes you wanna sing "Ma ma ma ma ma ma ma" a couple of times more.
Thomas: Not heard of the Jap band, but The Dream Academy was a favorite of Per's around 1985. Very Per this one, melody wise. And… is that a Farfisa organ I hear in the middle 8??
Kai: When you hear it then it must be so.
Have Another Go (vinyl bonus track)
Kai: Oh oh oh oh! Here we have a typical Gessle pop melody, the good old kind, the one you usually find on Per's demo collections only, because for some reason The Master decided they are not worthy enough for mortal ears. Wrong! We'd like to hear more of this.
Thomas: You said it. Could work in any guise. All in all you can tell they've had very much fun in the studio. I mean the whole album.
Lap Dancing
Kai: SOAP. Instrumental. Mental. The younger brother of Ronnie Lane? Would Old Hippie be the next track? Shhh, just listen…
Thomas: A brother from another mother? True enough, very SOAP. I didn't even realize this was a separate track until I sat down and looked at the titles.
Couldn't Believe My Luck
Kai: This is one of the songs you need to listen to a couple of times because there is so much to discover in it. Strong pop elements meet EDM but refuse to make a simple catchy song. Very fascinating, somehow. It still lingers on…
Thomas: This is a good one again. Lingering, and Dr. Robot on vocals. Strings in the background.
Kai: Oh yes, strings. Good songs can always use some strings.
Thomas: It's almost a must.
The Forever Waltz
Thomas: And the album ends with a third instrumental. A waltz, which Per favors sometimes. 6/8 beat. Think SOAP (again) but also think View from a Bridge.
Kai: Yes, an outro! How convenient! Back to where we came from or, even better, put the album on loop and start all over again.
Thomas: I have to say, even though this isn't even close to my cuppa, this album makes me happy. Can't explain why and I don't think I even have to. I like it. Can't wait to try it out in my car. Like Dr. Robot says – It's time to move on. Again, this isn't my normal muzak, but I definitely give it 4/5.
Kai: What a surprise in so many ways. The album turned out very differently to what I actually expected after having heard the singles released so far. I feared it would be just another superficial dance track album but no. The more I listen to it the more there is to discover. Also I like the idea of it being close to a concept album with intro, outro and recurring themes. It's a bit like SOAP just modernized. Interesting too that Helena comes more and more into the foreground, Per being merely the producer and occasional artist. Kind of Mike Oldfield, maybe. I'd like to hear more of this, so this must be a 5/5.