What to play? What not to play? These are the questions…
An esteemed wise man once rapped "…Guess who's back? Back again. Gessle's back, tell a friend…"
(Per's US manager on the other hand said "How can we miss you when you never go away…" but that's for another day…)
Per's hitting the road out of nowhere and grabbing his musical cronies for a solo tour and the folks at TDR are very excited about this upcoming project. And putting the debate about the use of apostrophes to one side, the "Per Gessle's Roxette 2018 Tour" will be a chance for Per and co. to give the glorious Roxette catalogue a fresh twist, live on stage!
Last week, The Daily Roxette's Board of Directors convened at our newly refurbished TDR Headquarters (overlooking the ocean, mind you… 4.6 million dollars well spent, thank you very much) to discuss our shareholder dividends when suddenly, the team broke out into an almighty fight. Traditionally, the Board argues about normal TDR business matters such as the use of our helipad or even the company's private jet, but this most recent dispute was with regards to the upcoming "Per Gessle's Roxette Tour".
When I casually floated the idea of "what songs should Per play?" I was flabbergasted when the board were not in unanimous agreement with me when I suggested the most obvious song choice; "June Afternoon."
What's there to discuss? It's non-negotiable, the time has come for "June Afternoon" to shine (pardon the pun). Alas, not everyone agreed, therefore a top secret and highly classified ballot was passed around our senior and most overpaid TDR Executives to cast their vote – and below we can reveal their results and their respective arguments as to why.
We here at TDR hope you enjoy my personal pick and we strongly encourage all our readers to happily skim over the garbage that Paul, Thomas and Kai have scribbled down.
Stevo's pick: June Afternoon
Album: Don't Bore Us, Get to the Chorus
Year: 1995
Do I seriously have to dignify this with an argument? Let's put my own personal bias aside, because as a sixteen-time Pulitzer Prize-winning journalist, I have a professional and ethical responsibility to uphold. Let's look at the facts. Per Gessle is in a "no click tracks" kinda phase of late, he's playing songs in an organic, power pop way – well they don't come more organic nor power pop than "June Afternoon." Originally slated for Per's first English solo album, The World According to Gessle, the song became the magnificent opener for Roxette's first greatest hits release in 1995, Don't Bore Us, Get to the Chorus!. And the actual song itself? You know that moment when you first bite into a piece of your favourite fruit and all that sweetness bursts into your mouth? Well this song is the equivalent. From the grand technicolour opening few seconds, to the whirling guitars, the fun kazoo, the sunny lyrics, the catchy chorus… my goodness, this song soars and soars and soars to wondrous heights of summer, engulfing your senses as you begin to believe that it really never does get dark. Gessle's current musical line up consists of Malin-My Wall who plays the violin and this song has an obvious and strong strings section… I mean, this really is a no-brainer. It could work as an opener, it could be a fun closer, it can go right in the middle. Can you believe that this song has never been played live? Now, I'm not one for exaggeration, but The Hague are investigating this as a potential case for a crime against humanity, that this masterpiece has yet to be performed on stage. So now's the perfect opportunity to not only make audiences around the world (hint hint) bounce with joy, but also a great chance to avoid being tried at The Hague. "June Afternoon" all the way… so what do my questionable and intoxicated colleagues have to say? Paul… your thoughts?
Paul's pick: Call of the Wild
Album: Pearls of Passion
Year: 1986
Look, I'd never say no to hearing "June Afternoon," but I think on this occasion, Per should go back to where it all began; 1986 and play "Call of the Wild". This forgotten gem of a song has never been played live as far as I'm aware. It's time is now. Per has reinvented some obscure songs over the years. Just last year, Per took an album track from Puls that had never been performed live before. The result was the magical "Honung och guld". In a similar style, "Call of the Wild", would have the same effect. Mysterious lyrics, backing vocals by Helena and Malin-My, a cool drum beat, Magnus' groovy base and a gorgeous violin lead instrumental. It already sounds perfect. If done in the right way, this could be the highlight of the whole gig. Saying that, "Surrender" would also work in this format as well. Pearls of Passion has always been overlooked since forever so it's time for people to rediscover this wonderful (if ever so '80s sounding) album. I imagine Thomas will have something to say about this though…
Thomas' pick: T-T-T-Take It!
Album: The World According to Gessle
I remember in 1996 when Gyllene performed John Holm's "Den öde stranden" the first few concerts. No one knew it, or liked it so the concert just died. They removed it after, say, five gigs. Same thing happened at Roxette's Unplugged, when Per brought out "So You Wanna be a Rock'n Roll Star?" the concert just flatlined. They had to retape the song three times, so it is a thin line. With that in mind, I'm still going to buck the trend and suggest Per think outside of the "Rox Box" and re-visit his first English solo album and play this rocking pearl; "T-T-T-Take It!"! Why? It's a fast-paced rocker, much like "June Afternoon" – which is recorded by Gyllene Tider by the way! Ha ha, bet you missed that, Stevo! MP's guitar in "June Afternoon", Syd's grand drums… wow! Pretty sure the demo of this is Gyllene as well. This is a forgotten gem too. Yes some parts of the lyrics aren't aces, but the fantabulous riff, the driving drums, the amazing vocals. "Watching from the outside outside looking in…" I miss this part of Per. He has so many songs to choose from it's almost scary. But he enjoys sticking to the same 15 over and over again. Why? Security? Familiarity? Hits? All of the above? No idea, but playing solo, with Gyllene or in Rox Per would benefit from selecting some different songs. He feels he must play all the hits, and I agree to a certain degree. He doesn't have to pick B-sides and other obscure fan favorites (I know I'm contradicting myself here), but like I said, he has so much to choose from. I think he did rather well in 2009. That's the most different set list to date. So Per, add this and I'll buy my ticket tomorrow.
And no, I wouldn't mind "Call of the Wild", a great tune. Rumor has it it was played live early on in 1987…
Kai's pick: Touched by the Hand of God
Album: Travelling
Year: 2012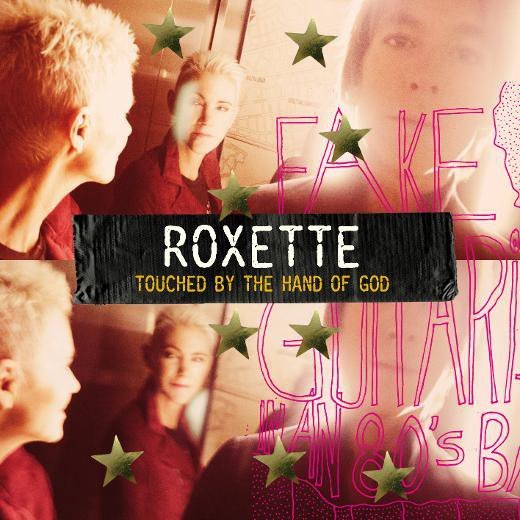 Nice try guys, but I say Per doesn't need to dig that far back in the archives, the obvious song choice is a more recent affair, 2012's "Touched by the Hand of God." Because of why? You know what Roxette has always been famous for? Right. Ballads and brilliant uptempo pop tunes. Ballads we've had enough of , it's time for the wakeup songs, the ones that make the crowd go wild and wanting to explore more albums than only the usual suspects. Roxette is so much more than "The Look" and "Pretty Woman." "TBTHOG" can perfectly be sung by Helena, I can see Clarence going berserk behind his keys, Per jumping like he's just swallowed one of the red balloons and Chris earns himself a few extra stage miles. It's a happy song, it's a feelgood song and I can even imagine a violin being played to it. This is why people go to Roxette concerts, or Per Gessle's Roxette concerts if you will! It's fun, you don't need a reason for that. This will be the one track people will want to find on Spotify on the way back home from the venue and once they found it, there will be more to discover.
On a side note, guys, I cannot work like this. I mean granted, yes, I get it, this company is run by a Finn. Fine. But come on, this office here is basically hot like a sauna, the daily delivery of fresh sushi turns into well-cooked fish the moment you put it out of the ice box. And even the guys of RXB down in our basement enjoy their annual barrel of Furet wine well tempered while we have to drink semi-boiled grapewine juice. This is not what you promised me when you picked me up from the street… Back to you Stevo!
Well there you have it, folks. Do you agree? Disagree? Let us know below why you think I'm right and why the others are wrong and hopefully Per pulls out a few hidden gems this tour in addition to the band's most recognizable hits. Bring on the tour!