"The shortest world tour ever" ends in Helsinki – Per talks with TDR
HELSINKI –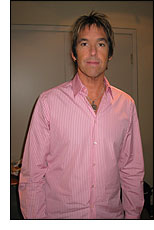 The Daily Roxette meets a neatly dressed Per Gessle in Hotel Simonkenttä, Helsinki, Finland. He's wearing jeans, a pink striped shirt and a new, cool necklace. "Thanks, Jonas [Åkerlund] found it in L.A., he finds the best stuff all the time!" Per says proudly. It's "Sommar-Mazarin" time for Finland and Per is doing a whole stretch of interviews. Although today the weather is far from summer in Helsinki, with eight centigrades and rain. Per is looking a bit exhausted this being his tenth interview for the day. He's also been on the road almost constantly since Tuesday, he lets TDR know. Tuesday he was in Oslo giving a concert at Rockefeller. The concert was a blast and they all had fun. "There was a huge party afterwards, I'm told," Per says. He didn't join, as he felt he wanted to visit his family quickly. Per flew in very early this morning to Helsinki instead.
Why Helsinki? Per says that it felt empty when the tour ended – uncomplete. There were no more places to play in Sweden. "So we thought about Oslo, Helsinki and Copenhagen. Copenhagen didn't work out, but the other two did." He also mentions that it's good for the press coverage and good for the local record company branches. "It doesn't matter to me if it's a big place or not. The important thing for me is to play. It will be a little bit like the release party gig [in Halmstad], only longer, and better," Per adds, smiling.
Per calls this the "shortest world tour ever". It started in Oslo on Tuesday and now ends in Helsinki.
So what's up with this new DVD, TDR wonders? "It will be out before Christmas, and it will contain a full concert in 5.1 surround sound," Per divulges. "It will also contain the documentary from the 'Mazarin' bonus DVD – 'En Mazarin blir till', and the new documentary that's just been broadcast on Swedish TV – 'Per Gessle – Ta en kaka till!'". If there's room, Per may add his "The World According to Gessle" videos. "Did you know there are three different videos to 'Kix'? There's one for 'Kix Cha Cha' even!" Michael Ilbert is brought in to mix the DVD's sound. "It may even include interviews with the band too, I heard." TDR asks about the title. "It's not really titled yet, but I want it to be in line with the rest. We're playing around with 'Mazarin DVD', but well, we don't know."
Speaking of DVDs, the Roxette DVD is being updated according to Aftonbladet. Per confirms this and feels it's good that the DVD is updated with new videos. Updated means that the old version will be withdrawn and replaced with this new edition. "So I can have all my videos in one place," Per smiles. There will also be a new cover. "We've found a new, cool, remix version of 'The Look' that we will include too," says Per. Seriously speaking though, Per feels that you don't have to buy it again if you don't want to, being confronted with some fans' reactions to the new plans. "Some things need updating, or things just stand still," Per states. "For instance, even if the Gyllene Tider tour next year doesn't happen, there will for sure be several updates of old Gyllene Tider compilations."
"Back to 'Mazarin', how goes it, how does it feel now?" asks TDR. Per lets us know that it feels wonderful, he says that if he'd known what kind of impact this album would have had, he may not even have dared recording it, at least not in the way he did record it. "People stop me in the streets just to tell me how much they love the album, it's weird! And even one of the air hostesses told me she listens to the album everyday. It seems to mean so much to so many. I had no idea that people would be so touched by my thoughts!"
We go into the area of singles, and Per mentions that after the delightful problem of interlacing the release of "På promenad genom stan" with the previous single "Känslorna", there will almost certainly be a third single. "'Tycker om' is such a nice song, most people have that as a their favorite. Did you know that 'Promenad' is already number six in Sweden, by the way? Up from 44 to six," Per says. "'Känslorna' is number 11," he adds. He means the radio air play charts.
TDR wants to know if there are left-overs from "Mazarin". "Ummm, not really. There's 'Mannen med gitarr' which Monia Sjöström got, I have a demo of that. And then there's this other song… I forget the title right now, but no, not really, a few maybe," Per says thoughtfully.
Gyllene Tider's 25th anniversary? "We are about to talk. We haven't yet. What's pro this is that it's an anniversary that doesn't come back and that it's very good for me, time wise. I have nothing planned. What's against this is that, for me, if it will happen then everybody must be very motivated. I mean, Göran [Fritzson, keyboards] doesn't even play anymore. I don't even know if he plays at all," Per tells TDR. He continues: "It has to sound damn terrific, the attitude has to be right. The reason must not be that we want to go on the road again to cash in on our fans. If it's so then maybe we shouldn't bother, and do something else instead. It's a lot about checking the mood among the guys."
Per is on fire now, and adds "A follow-up question is: Will we release something new together with a possible tour? A single, an EP, an album? Who will record it? Things like that…" TDR asks how a hypothetical tour will look, an "Återtåget 2" for instance. "No I don't think so, I don't know really but maybe a shorter tour with bigger gigs? Maybe sell out the Gothenburg stadium, I mean if Robban [pianist Robert Wells] can do it, why couldn't we," Per grins. "What's the bottom line, it has to be good. But it feels good, the five of us haven't met in a long time, but the good vibes are in the air!"
On a side note, Per mentions that he thinks Marie's new solo album will be out next year. If Gyllene Tider also goes on tour then that's just great. Roxette is hopefully back with new things in 2005. "It's a possible scenario," Per states.
This article was written for an earlier version of The Daily Roxette.
Technical errors may occur.