Singer Laura Branigan passes away at 47
NEW YORK –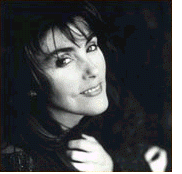 Laura Branigan, a Grammy-nominated pop singer who recorded a Roxette cover but is best known for her 1982 platinum hit "Gloria," has died. She was 47.
Branigan died of a brain anuerysm Thursday in her sleep said her brother Mark Branigan. He said she had complained to a friend of a headache for about two weeks before she died, but had not sought medical attention.
"Gloria," a signature song from her debut album "Branigan," stayed atop the pop charts for 36 weeks and earned her a Grammy nomination for best female pop vocalist, the first of four nominations in her career.
Laura was also known for her recording of Roxette's "The Sweet Hello, The Sad Goodbye." Her cover of the song appeared on her "Over My Heart" album released in 1993. It's been said that Laura also wanted to record a cover of "Queen of Rain."
After the death of her husband in 1996, Branigan stopped performing but returned to the stage in 2001. In 2002 she starred as Janis Joplin in the off-Broadway musical "Love, Janis," which earned her rave reviews.
Funeral services are scheduled for Monday.
This article was written for an earlier version of The Daily Roxette.
Technical errors may occur.