Per's mother, sister and nephew exhibit their artwork
KUNGSBACKA –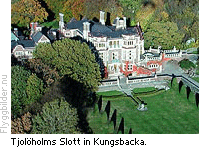 Per's mother Elisabeth, sister Gunilla and nephew Christofer Loneberg are currently exhibiting their artwork at Tjolöholms Slott, a beautiful manor house here built in the Elizabethan style. The house, erected between 1898 and 1904, fascinates thousands of visitors every year.
  The art exhibition, titled "Three Generations, Three Expressions," includes acrylic and oil paintings along with various drawings. Both Per and Åsa attended the opening (vernissage) yesterday.
  All of the paintings displayed are for sale.
  The exhibition continues until August 13, and is open daily between 13:00 – 19:00.
This article was written for an earlier version of The Daily Roxette.
Technical errors may occur.