Roxette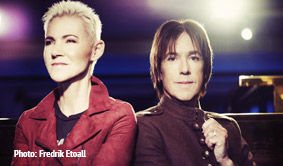 The latest news from the Swedish duo
Marie Fredriksson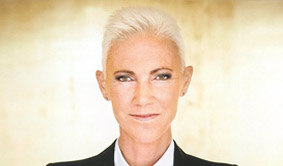 Learn more about Marie and her solo projects
Per Gessle
The mastermind and his side projects
Gyllene Tider
All about the 5 boys from the Swedish West coast
Per Gessle
Per has secretly been working with David Guetta and other Swedish DJs. Little is known about the project at this time.
Per Håkan Gessle, born 12 January 1959, is a Swedish pop singer-songwriter and guitarist. He is the lead singer of the Swedish pop group Gyllene Tider and formed Roxette with Marie Fredriksson (Gessle being the chief songwriter in both bands). With Fredriksson's illness in 2002, he went back to recording and became a successful solo artist in his native Sweden, selling multi-platinum albums.
Per Gessle was a founding member of Gyllene Tider, in 1976. They quickly became a popular group in Sweden, but after their fourth album, The Heartland Café (1984), sold poorly compared to their previous albums, the group disbanded. Gessle wrote. "We decided to put Gyllene Tider to rest… until further notice."
In 1982, Gessle released his first solo album, Per Gessle and after Gyllene Tider split-up his second album, Scener, quickly appeared in 1985.
In 1996, after a reunion and subsequent tour of Gyllene Tider, Gessle recorded his first English solo album, using Brainpool and Gyllene Tider as backing musicians. Christoffer Lundquist from Brainpool would also come to collaborate with Per on later releases.
The World According to Gessle, released in 1997, produced three singles, "Do You Wanna Be My Baby?", "Kix" and "I Want You to Know". The videos to all three songs were directed by Jonas Åkerlund. The World According to Gessle was re-released in 2008, with extra bonus material and demos.
After Roxette released Have a Nice Day (1999) and Room Service (2001) to moderate success, Per continued with his solo work.
The subsequent album Mazarin (2003), was very successful in Sweden, going five times platinum in 2004. His first album involving singer Helena Josefsson brought Gessle numerous awards; four Grammis awards: Best Artist, Best Male Pop Performer, Best Composer and Best Song. He also won three Rockbjörnen awards: Best Swedish Male Artist, Best Swedish Album and Best Swedish Song — and a Guldälgen (The Golden Moose) Award for Best Song. The song "Här kommer alla känslorna (på en och samma gång)", is Gessle's most successful release in Sweden, spending two months at #1, while gaining platinum status.
Also in 2004, saw Gessle and Gyllene Tider reunited for a 25th-anniversary celebration that included the band's first album in 20 years, Finn 5 fel!, and another very successful tour in Sweden. They beat the Ullevi attendance record, after the reparations, which was later broken by U2 in 2009, and the band played to almost half a million fans. As a result, the group was honored with four awards in Sweden.
With Son of a Plumber, he continued his association with other Swedish artists. Jens Jansson along with previous collaborators Josefsson and Lundquist, helped Gessle create his second English album. Released in November 2005, the album contains all of Gessle's musical heritage. His father was a plumber and the 2-disc album contains a song dedicated to him, "Kurt – The Fastest Plumber in the West". In Sweden, the album sold platinum on the first day of release. The album was also released in several other European countries in April 2006.
In June 2007, he released another solo album in Swedish with the name En händig man, which shipped three times platinum. A single of the same name was released; "En händig man". Later in October a book of "Att vara Per Gessle" was published, telling some of the unknown facts about Gessle and his 30-year career.
In late 2008, Gessle released Party Crasher, his seventh solo album and third in English. The first single off the album "Silly Really" was released on 29 October 2008 and achieved critical acclaim from Expressen, calling Per a "pop genius". After that, Gessle started his Party Crasher Tour, where Marie Fredriksson joined him on stage twice, in Amsterdam and Stockholm. This was eight years after their last live performance together during Roxette's Room Service Tour in 2001, and after Fredriksson had recovered from a brain tumor discovered in 2002.
In the summer of 2013, Gessle reunited with his first band Gyllene Tider once more, performing some 20 shows in Sweden for an audience totaling about 300.000 people.
Latest releases: Småstadsprat. March 17, 2017, En vacker natt. April 28, 2017.
Sommarturné 2017:
July 6 Helsingborg, Sofiero slott
July 7 Oskarshamn, Latitud 57
July 8 Örebro, Slottsparken
July 13 Rättvik, Dalhalla
July 14 Töreboda, Torget
July 15 Hasslö, Hasslöfestivalen
July 21 Grebbestad, Tanumstrand
July 22 Gothenburg, Trädgårdsföreningen
July 23, Fredrikstad, Månefestivalen, Norway
July 27, Stockholm, Skansen
July 28, Östersund, Storsjöyran
July 29, Piteå, Pite Havsbad
Aug 1 Borgholm, Slottsruinen
Aug 2 Malmö, Mölleplatsen
Aug 3 Arvika, Arvika hamnfest
Aug 11 Halmstad, Brottet
Aug 12 Linköping, Stångebro
Aug 18 Uppsala, Botaniska trädgården
Aug 19 Eskilstuna, Sundbyholms slott
Aug 25 Vasa, Studio Ticket Live Festival, Finland
Aug 26 Borgå, Popkalaset, Finland