Per visits Swiss radio and TV programs
ZURICH (UPDATED) –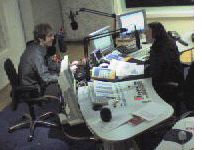 As we previously reported, Per Gessle is on a promotional tour and today, he met with Swiss journalists and appeared on both VivaSwizz, a music TV channel, and a Swiss national radio station program.
Asking questions in English, and then translating the responses into German, the DRS3 radio host (see webcam pic at left) covered a variety of topics in a short time… from ballads to touring to solo projects.
Q: How do you decide who sings each song?
Per: We let the song decide if the lyrics are meant to be sung by a girl or guy. Most of songs are written for Marie to sing.
Q: Roxette is famous for the ballads, but you also have a rock-side.
P: It's one side of Roxette. Most people recognise Roxette for the ballads, Marie's voice is very sensitive, vulnerable, and fits the melodies. It's a great combination. But we also have a power-pop side, and actually we have an up-tempo compilation coming in March next year. It's great to mix our voices and to have such a band, that's able to sing both kind of songs.
Update: You can listen to the full interview in DRS3 website, you just have to follow the links below.
Q: What's changed since you started? You as a person, the show business?
P: Everything's changed. Now it´s more like marketing. When we started, there was more freedom. Now we're in our 40s, have kids, 15 years as Roxette. It's been a great career, we've changed, but everybody changes."
Q: Aren't you tired of playing hits again and again?
P: No, never. It's all about comunication in a show, the audience makes the show worth while, it's quite tedious to rehearse all these songs, but everything comes alive on stage. It's great to tour, we have toured with almost all our albums and we have a great audience.
Q: Your big hit "It Must Have Been Love" was included in the "Pretty Woman" soundtrack, but it was a hit before in Sweden, as a Christmas song?
P: Yes, we tried to get into the German market with that song. The record company said 'why don't you record a Christmas song and release it at that time of the year'. It was summer, I went home and wrote it. That was in the mid-'80s. Later in the '90s we were asked if we wanted to contribute a song in Pretty Woman. We didn't have the time to write one, so I changed the part of "Christmas" into "December". It turned out to be, probably, the biggest song we've ever had.
Q: Some months ago you did a cover of a song by the Ramones, how was that experience? You're a singer-songwriter, so how is it to use some other songwriter's material?
P: It is quite different, obviously. I have always liked the new wave scene, The Ramones , Blondie, Talking Heads, Sex Pistols… I had the chance to cover The Ramones for a tribute album to the band, it was great to do something else.
Q: In addition to Roxette, you and Marie are also having your own solo career, is it because you cannot express yourself completely in Roxette?
P: The thing is that with Roxette we write in English and when we do our solo work we mainly work in Swedish. I think it is important to allow each other the freedom to work on our solo careers too, and I believe this is one important reason for our success.
Q: Marie is going through a rough time right now. How is she?
P: She is getting better, she went through a complicated surgery but she's coping quite well. It will take a bit of time for her to recover completely, but she will be fine soon.
Q: We wish all the best for the future, especially to Marie. Now we are going to play "Listen To Your Heart", what can you tell us about this song?
P: This was written in '88, and it was our second American number one. It is very 'Americanized'. Marie is as always, in top shape.
This article was written for an earlier version of The Daily Roxette.
Technical errors may occur.