New album produced by Mats MP Persson
STOCKHOLM –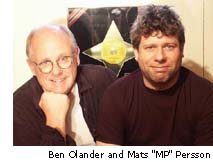 Expressen reports today that Ben Olander, 52, is releasing an album produced and co-written by Mats "MP" Persson next month.
Olander is a well-know Swedish artists and has been during 53 weeks in the Swedish charts "Svensktoppen" and has got 6 hits during the past two years.
The album, "Insikter", that is out November 11th, has been recorded in Per Gessle's studio, Tits&Ass.
"Everything started when I moved to Halmstad, Sweden's Liverpool," says Olander to Expressen. "It feels just great. Now I just hope to get another kind of audience to listen to my work. But of course, I want songs from this album to reach the Swedish charts."
After the release Olander plans to tour Sweden. He hopes that Micke "Syd" Andersson joins him on stage, which would mean that half of Gyllene Tider would be touring in short.
Olander started his career as musician at the age of 48, when Janne Bark, who has previously worked with Gyllene Tider and Per Gessle and is currently Ulf Lundell's guitar player, convinced to start as a professional in the music business.
"I started a bit late, but not too late," he states.
This article was written for an earlier version of The Daily Roxette.
Technical errors may occur.