Love, peas and copy protection: Per talks with TDR
STOCKHOLM –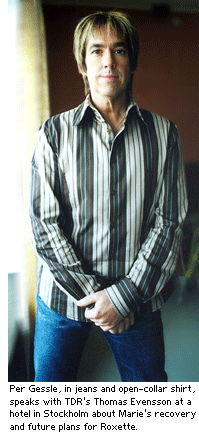 It's a neatly dressed but slightly hung over and tired Per Gessle who meets The Daily Roxette at Hotel Lydmar at Stureplan here in central Stockholm. The reason for his tiredness is Bruce Springsteen's sold-out concert at Globen last night, and the requisite bar hopping that occured afterwards.
"I was out with Clarence. The man never quits!"
He's wearing almost the same clothes as in the recent promotional photos, and the room at the hotel is large and comfortable. He offers me a Coke.
It's a day full of interviews with the reporters from various newspapers, and Per's not quite sure who's who.
"The Daily Roxette? Good! I read that all the time," he says with a smile. "It's even the home page of my browser. I always get annoyed over 'SmallTalk' though; there are sometimes really weird ideas… that I want to correct."
I wonder if he's serious, and he claims he is. "Whenever I need to find out what I've been doing lately, I consult TDR," he says with a laugh.
But the question on the mind of our readers is: how is Marie?
"Marie is fine, as fine as can be," Per says. And Per should know: he visited with her Saturday at her home just outside of Stockholm and they enjoyed dinner together. "She looked healthy and is active. She's just like she usually is again. The surgery went well. The entire tumor was removed, and no others were found. She's on medication now." Asked directly, Per said he doesn't know if the tumor was malignant or benign. "I haven't asked her really," he said.
What disturbs Per is that the hospital staff leaked information to the press even though there was supposed to be heavy security. "The whole press thing got totally out of hand," he says. Refocusing on Marie, he mentions that the doctors were very pleased with the results of the three-and-a-half hour long operation.
"I don't think I've fully realized what happened yet; we're all in a state of shock still," Per says as he leans back into the sofa he's sitting on and clasps his hands behind his head.
It seems like as good a time as any to switch subjects, so we dig into questions about the new songs. The "new" songs are, in fact, not new songs, but rather leftovers from previous albums. "The Weight of the World" and "Every Day" were pulled from Room Service as they thought there were too many ballads already, for instance.
"Somehow we always end up with too many ballads. Mysteriously…" he adds with a sly grin.
"Stupid" to be released as a bonus track
Basically Per and Clarence took the existing raw material – the recorded voice and instrumental tracks for each song – and attempted to mix them as best as possible. "They are to be considered bonus material for fans, nothing else," he said. Speaking of the new songs, "Breathe" will not be a single.
"There's a glorious demo of 'Breathe' with me singing, we want that to be a B-side", Per recalls. "We had way too few B-sides on this single…"
In fact, there will be no more singles before the power-pop hits album – at least that's the plan. Per explains that "A Thing About You" is planned to last on radio until Christmas, and then there won't be any more time for another ballad single, as a new up-tempo single will be released before the next album in the spring. This new single won't be Roxette's version of "Stupid" however. This song, recorded for Jonas Åkerlund's movie "Spun," will be be included as a bonus track. "The movie is wonderful," Per thinks. He saw the director's cut, but was "slightly tipsy" when he saw it, he confided to TDR.
"I don't even think 'Stupid' is in the Hollywood cut," Per broods. "The music by Billy Corrigan is amazing too. Jonas gave me a CD with his material."
When asked about what was happening in the UK with "Sleeping in My Car," Per smiles wearily and says that he doesn't know yet, but that he's confident that they will rule in his favor. "Anyway, people say that you've never had a career if you've never been taken to court."
"Malmstedt is a strange character," he continues. "One thing Malmstedt did during the sessions made the whole court, including the judge, laugh."
"Malmstedt realized pretty soon that he didn't have a case so he starts claiming that if you take the upper part of the 'Jennie and I' vocals and play that backwards – plus adding a note – then it's really close to the lead melody of 'Sleeping in My Car'"
"'Have you never heard of backwards stealing?' Malmstedt cried out. Apparently not," Per said smiling, referring to the judge.
"All in all, it was a very strange experience. He called a lot of witnesses that went against him. By the way, we discovered that 'Sleeping in My Car' and The Beatles' 'Let it Be' have the same first six chords!"
Love, peas and understanding
"Love Peas," I start, "…came and went," Per interjects. "Well, many of our readers were wondering why there were peas to begin with," I say.
"I wanted to put LOVE, PEACE and UNDERSTANDING on this suitcase once with the enclosed self-adhesive letters, but there weren't enough letters… the best I could do was LOVE PEAS." He has something "even worse" on another suitcase, but didn't want to say what it was.
They removed the peas from the album title because the record company felt the title should be something more obvious and clear. So, "The Ballad Hits" was chosen. They chose not to place a photo of Per and Marie on the cover because the songs span so many years and they wanted a more neutral look. There are obviously new pictures inside the booklet.
He is already in the studio again working on the new up-tempo material, and they will record and add Maries voice tracks at a later date. The forthcoming album's name is yet undecided, but "The Pop Hits" and "The Power-Pop Hits" are two strong contenders. "A reason for the hesitation is that 'pop' means different things in different countries," Per mentions.
"But we'll conduct a poll in The Daily Roxette!" he laughs.
"I like albums I can play"
In previous reports, TDR has revealed that "The Ballad Hits" will be copy-protected. The system chosen is called "Cactus," and is supposed to work with most CD players, but problems may occur with some DVD players and Macs. Per himself is wondering what he should do, because he has all Roxette's material on his PC and he wishes to play this CD on his PC as well. Li Eriksson of Capitol Records, who has been working on her notebook computer at a desk in the hotel suite, interrupts us and says that he may and can. "You can apparently play the CD on PCs and even copy it once, but not to MP3 format," she relays.
"I like albums I can play," Per states. "We're all for that."
There won't be any problems with the sound quality using this system, Eriksson added.
Will there be a Rox Box?
"I'm sure there will be, but I don't know. I don't even know what has been deleted and not anymore. I have the records, but I don't know if they are available anymore."
He explains that when "The Look for Roxette" comes out, the new discography book by Robert Thorselius, there will be a bonus EP in the first edition – if everything is resolved with the rights. He continues by saying that he actually has no clue what is out and not. He would like someone to tell him.
When asking about other nice and rare material, like MTV Unplugged, Per says it's all about rights.
"EMI had the right to use three songs from MTV for free, which they have. If they want to use the rest it will cost them dearly," he said. Per disclosed that he had hopes for a CD of the concert. "The CD is even mastered, without the three songs," he said. One early idea was to include the MTV concert as the bonus CD on this compilation.
"Why didn't anyone think of that?" he says to Eriksson, when we raise the possibility of an Unplugged DVD. Once again, the answer is that it's an issue of rights to the video footage.
"Gyllene Tider gets boring so fast…"
"Per, what about the new Swedish solo album?" I ask. He says he has lots of demos, but he doesn't really know what to do with them. He has the urge to put out another solo album, but he is really indecisive.
Maybe Gyllene Tider should record them?
After hesitating a while, he says no, or maybe. "Gyllene Tider gets boring after recording like four songs. Everything starts to sound exactly the same!"
As our time together comes to an end, we decide that 2004 will be the 25th anniversary for Gyllene, not 2003. Why?
"Well, the Instant Hits album was out in 1989, and that was 10 years… which makes 2004… 25," Per says with a sigh of relief! He had totally forgotten about the anniversary. "25, it's a nice and even number, isn't it?" he grins.
This article was written for an earlier version of The Daily Roxette.
Technical errors may occur.