Gessle on Nyhetsmorgon on TV4
STOCKHOLM (UPDATED) –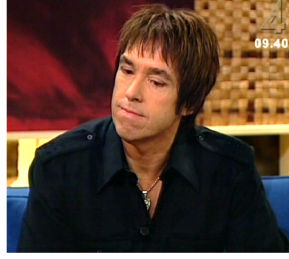 Per Gessle visited the morning show "Nyhetsmorgon" (News Morning) on Swedish TV4 today. They started with showing a full song (Sommartider) from "Sommar-Mazarin" just to show the frenzy at the gigs. The clip was in widescreen so that bodes well for the upcoming DVD. TV4 will air about one hour of goodies from the Gothenburg show on January 1.
Per's interview revealed not so much new. Roxette will not do anything actively during 2004, they'll wait to see how Marie feels. Gyllene Tider's possible tour will be decided during December. "What speaks against a tour is that 'Återtåget' still is the biggest tour in Sweden ever, so it's a big fall for us…" Per smiled. He added that he very much would like to tour with his old friends, There will at any rate not be another solo tour next year.
Otherwise, Per is in the process of writing new material. And he has also painted a painting for Art Against AIDS, as previously reported.
Per Andren, Daniel Alvedahl and Dominik Rzepka contributed to this article.
This article was written for an earlier version of The Daily Roxette.
Technical errors may occur.