"All About You" second single off "The Change"
(UPDATED) –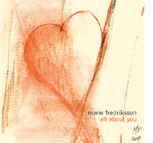 According to the Swedish online store Ginza.se, the second single to be released from Marie Fredriksson's album "The Change" is going to be "All About You," a love song that husband Micke Bolyos wrote for Marie. The new single will be in the stores on December 1.
Update: On the left of this article you can find the cover of "All About You." The b-side will be "April Snow (Alternative version)."
Roxryder-V2002 contributed to this article
This article was written for an earlier version of The Daily Roxette.
Technical errors may occur.